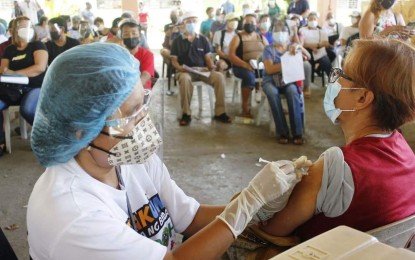 BACOLOD CITY – The city government here on Wednesday warned residents on the health risks posed by getting inoculated with different brands of coronavirus disease 2019 (Covid-19) vaccine.
In a statement, the Bacolod City Emergency Operations Center-Task Force (EOC-TF) said availing two distinct brands for the first and second doses has not been proven to give protection against Covid-19 in the absence of scientific data to support it.
"Mixing of brands has not been proven safe and effective yet. When it comes to your health, always choose what is safe," said City Administrator Em Ang, executive director of the EOC-TF.
According to the EOC-TF, the Department of Health has not issued any advisory or statement affirming the safety of being inoculated with two different brands of Covid-19 vaccine.
As of July 31, Bacolod has received a total of 193,850 combined doses of four vaccine brands from the national government, including Sinovac's CoronaVac, AstraZeneca, Johnson & Johnson's Janssen, and Pfizer-BioNTech jabs.
On Monday, Mayor Evelio Leonardia said that about 150,000 individuals have already received either the first or second dose of the Covid-19 vaccine.
The city government conducts vaccination in five shopping malls as well as in several barangay gymnasiums and school clusters.
Dr. Rosalie Deocampo, contact tracing cluster head of the EOC-TF, reiterated that the best vaccine is the available one.
An individual is considered "fully-vaccinated" two weeks after receiving the second dose.
"Those fully-vaccinated who contracted the virus experience only mild symptoms and are even asymptomatic. These individuals were administered with two doses of the same brand of vaccines," she added.
Deocampo said no fully vaccinated Bacolodnon has ever manifested severe symptoms of Covid-19. (PNA)
*****
Credit belongs to : www.pna.gov.ph