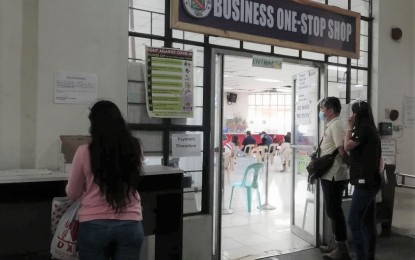 BAGUIO CITY – The city government rolled out its "smart city project" for ease of doing business that also addresses the crowding of people who pay their business taxes, renew permits, and for payment of real property tax.
Mayor Benjamin Magalong on Tuesday said business and real property owners do not have to line up at city hall to transact as they can do it at the comfort of their homes.
Magalong said via www.baguioinmypocket.ph, taxpayers can get their assessment and pay through the bank.
"Pwede na nilang i-download ang assessment sa kanilang bahay, they can do it, they can download it para hindi na pumila. They have to download it at pumunta na lang sa bangko para magbayad (they can download the assessment while in their homes and there is no need to queue then go to the bank to pay)," Magalong said.
This cuts two stages in the process of renewing business permits that require queuing before proceeding to the one-stop-shop to start with the process. This, however, is one step removed in the payment of real property tax.
Magalong said the online assessment and payment also address the crowding that is strictly prohibited in the health and safety protocols to prevent the transmission of coronavirus disease 2019 (Covid-19).
He said the system was started by the last quarter of 2020. The actual implementation started on Jan. 4, the first day of work for 2021.
"Meron pa tayong konting hitches sa online transaction kaya makikita niyo may konting pila pa pero hindi tulad nung last year na talagang mahaba (There are some hitches in the online transaction that is why there are still queues although shorter than the previous years where there are long lines)," Magalong said.
The minor glitches are being ironed out by the treasury office and the private company provider — Information Technology Business Solutions (ITBS) that is helping the city government in its "Smart City project" and the "Baguio in my pocket" project for free.
Aside from the online business tax assessment, the city has also decentralized the issuance of the community tax certificate (cedula), working permit, police clearance, professional tax receipt or occupation fee, and the residential garbage fee.
"Pwede ng kunin ang mga ito sa barangays, ang mga cedula (Cedula can be obtained at the barangays). Makikita niyo (You will see) highly reduced number of people lining up to transact business with our treasury office," Magalong said.
Aside from making available online some of the processes, the city treasury office and the permits and licensing division also came up with a scheme to avoid overcrowding.
The processing of permits for January is for business names starting with letters A to H; February for I to P and March for Q to Z and those that start with numeric or special characters.
The processing of business permits was also split into two venues — at the Baguio Central School covered court for new business, change of location, an additional line of business change of management; while renewal of business permit, retirement of business permit, and special permit are done at the permits and licensing office at the city hall.
The City Treasury Office and the Permits and Licensing Division of the City Mayor's Office started the implementation of the new systems in tax payment and processing of business permits as part of crowd control to ensure better service. (PNA)
Credit belongs to : www.pna.gov.ph