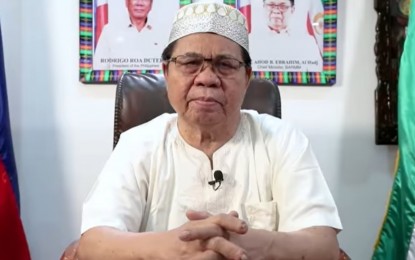 COTABATO CITY – Bangsamoro Autonomous Region in Muslim Mindanao (BARMM) Chief Minister Murad Ebrahim appealed Thursday to residents to remain vigilant as Muslims celebrate Eid'l Fitr amid the coronavirus disease pandemic.
"I would like to appeal that as we observe this meaningful day, we should not be complacent and put our guards down. Covid-19 still exists and it is incumbent upon all of us to continue practicing the minimum health standards," Ebrahim said in his Facebook Eid'l Fitr message.
Eid'l Fitr marks the end of the Islam faithful month-long fasting period of Ramadan that culminated Thursday.
"If we continue these practices and with the help of our vaccination program, we will have the chance of having a better Ramadan next year, In shaa Allah (If Allah wills it)," he said.
Ebrahim said the BARMM joins the rest of the Muslims worldwide in celebrating Eid'l Fitr this year although subdued due to the Covid-19 pandemic.
"This blessed celebration (Eid'l Fitr) serves as a reflection to the wonderful virtues of the said month and a time to show our love to one another and our unity as one Muslim Ummah (world)," Ebrahim said.
Ebrahim said although there are still trials that every Bangsamoro continues to face during this pandemic, "none of which will hinder Muslims from performing our obligations to the Almighty Allah and practicing the significant Sunnah or traditions taught by the Prophet Muhammad (SAW)."
Ebrahim also asked constituents to also pray for the success of the regional government in responding to the needs of the Bangsamoro people. (PNA)
*****
Credit belongs to : www.pna.gov.ph