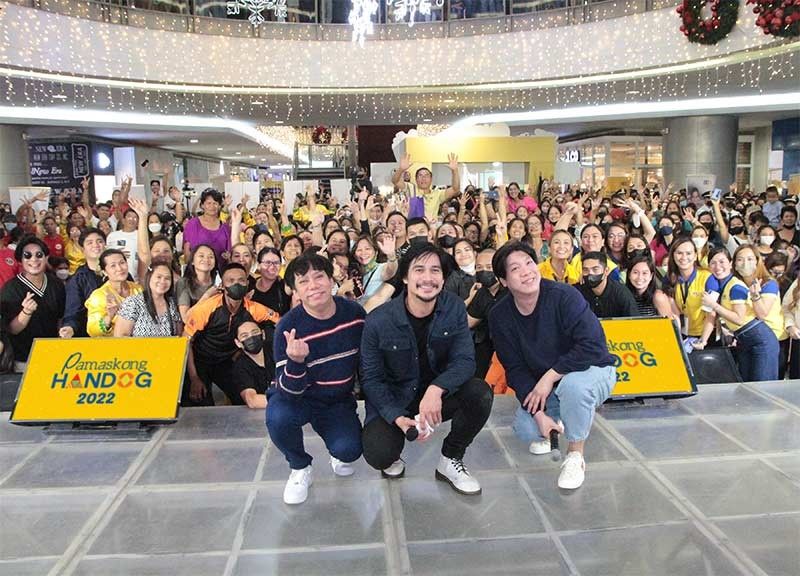 MANILA, Philippines — Out of all the Philippine holidays in a year, Christmas is no doubt the most meaningful and joyful for all Filipinos. So having been away from their families for the most part of the year—or years even—overseas Filipino workers (OFWs) make sure they can finally go home. All they want for Christmas is to spend time together and share unforgettable memories until they leave once more.
BDO understands this best and for more than a decade, celebrated our OFWs' homecoming with its annual Pamaskong Handog—even when it was held online at the onset of the pandemic. The Christmas event has become a heartwarming gathering and has not stopped making Christmas extra special for the overseas Filipino market since 2012.
This year, Pamaskong Handog has finally returned to SM Supermalls and recognized three exemplary overseas Filipinos: Melanie Calumpong, Pierre Alfonso and Philline Bliss Dunque—all long-time BDO Remit clients—and made the holidays even brighter and happier for them and their families.
BDO: OFW partner for life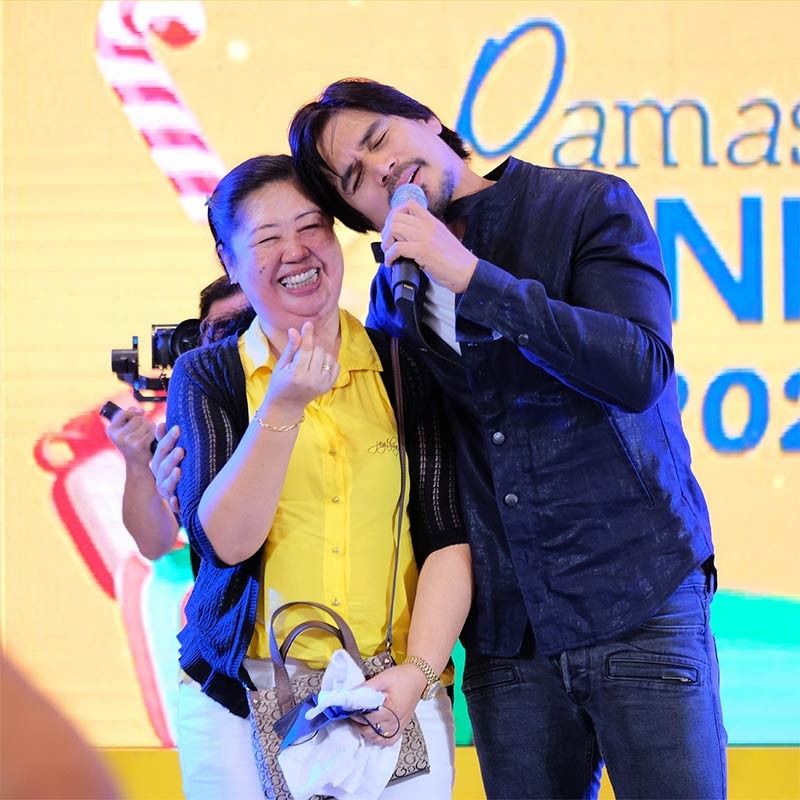 Piolo Pasccual with Melanie Calumpong, a counter staff in Kuwait for 17 years and has been a BDO Remit client since 2005.
Photo Release
For these inspirational Filipinos, BDO has been instrumental to their dreams and successes, even amid the pandemic; BDO maintained a remittance service that is fast and reliable as it is the only bank with 24/7 remittance customer service.
This cannot be truer for Melanie Calumpong who has been working as a counter staff in Kuwait for 17 years and has been a BDO Remit client since 2005.
"As a sole provider for my three children all these 17 years, BDO Remit played a big role. It never failed me when I send money for their monthly budget, tuition and even during emergencies," Calumpong shared.
"I entrust BDO with my savings and remittances. Now my children are all degree holders with one even pursuing a Master's Degree. After being away for so long, I am now planning to come home and start my own business," she added.
Meanwhile, seafarer and ship captain of 30 years, Pierre Alfonso and his wife Maria Ruzalhe Alfonso have put their trust in BDO for more than two decades.
"I started as deck cadet last 1992. Through hard work, patience and determination I was able to reach this position. We were able to send our children to private schools, build our dream house, buy new cars and lots," he said.
"BDO was able to help in achieving some of our goals because it was my first allotment bank. I was able to acquire a car loan. Remittance is fast and with higher exchange rate, accessible ATMs and more branches nationwide," he added.
Finally, single working mom Philline Bliss Dunque shares what she's been through and how BDO has helped her all this time.
"I have been through a lot in my life and have been a single mom for 9 years now. Working abroad is really hard especially being away from my son for 13 years," she said.
"Having my BDO account for a long time helps me a lot to connect with my son. It's just one click away, a very easy step to send money to my son. BDO makes my life way easier and having an account with BDO I never encountered difficulties in accessing my account, especially online banking," she added.
Welcome, balikbayans!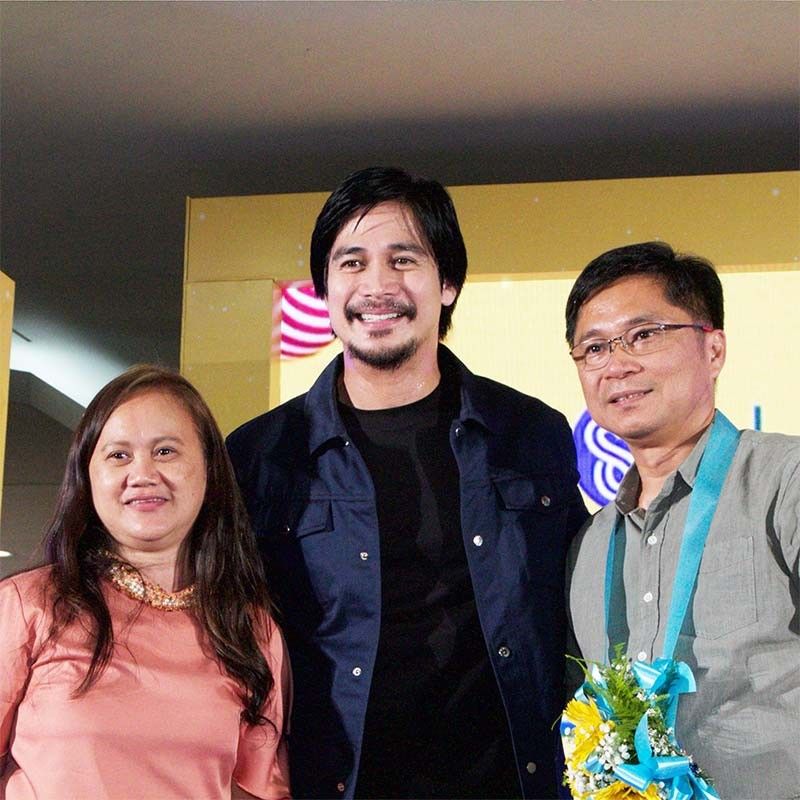 Piolo Pascual poses for a snapshot with Pierre Alfonso, seafarer and ship captain of 30 years, together with his wife Maria Ruzalhe Alfonso
Photo Release
Putting a spotlight on balikbayans and their beneficiaries, BDO, in partnership with SM and its remittance partners Western Union and WorldRemit, brought back Pamaskong Handog to the SM Supermalls last December.
Themed "Kita-kits na muli sa SM," the 11th Pamaskong Handog felt like a grand reunion held in three different SM Supermalls nationwide: SM Santa Rosa last December 3, SM City IloIlo last December 10 and SM CDO Downtown Premier last December 17.
Apart from the fun bingo games, entertainment and beloved celebrities Piolo Pascual & comedians MC & Lassy, the events were made more exciting by BDO partners Western Union and WorldRemit, whose representatives carried out special games, gave away gifts and raffle prizes.
Unique, special treats for OFWs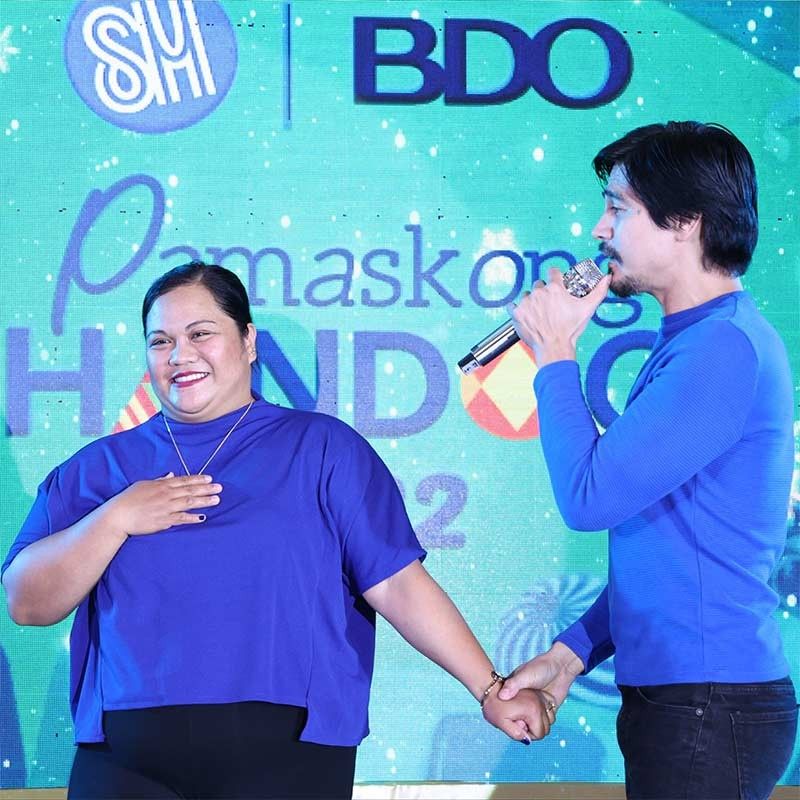 Piolo Pascual serenading OFW single mom Philline Bliss Dunque
Photo Release
Every year since 2012, it has been BDO and SM's mission to uplift overseas Filipinos with cheer every holiday season through the Pamaskong Handog. The BDO-SM synergy has given birth to more special treats for OFWs, all aimed at giving back & making them feel special during the most wonderful time of the year.
Kabayan Savings account holders got to enjoy exclusive perks from SM affiliates throughout different days of December: P300 discount from Miniso on Mondays, P500 off via SM Store Personal Shopper on Tuesdays, which has now been extended until January 31; 10% off at Surplus Shop on Wednesdays, free cheeseballs from SM Markets on Thursdays and P500 off discount from the Baby Company.
BDO & SM have been working together in delivering special treats for OFWs, bringing Filipino families closer to enjoy their special time together inside SM Supermalls—not just every Christmas but year-round.
To watch and relive the best moments of this year's Pamaskong Handog, simply go to the BDO Kabayan Facebook page to watch the recorded livestreams.
For more details on Pamaskong Handog events and the latest OFW promos, tips and events, visit the BDO Kabayan Facebook page.
*****
Credit belongs to : www.philstar.com