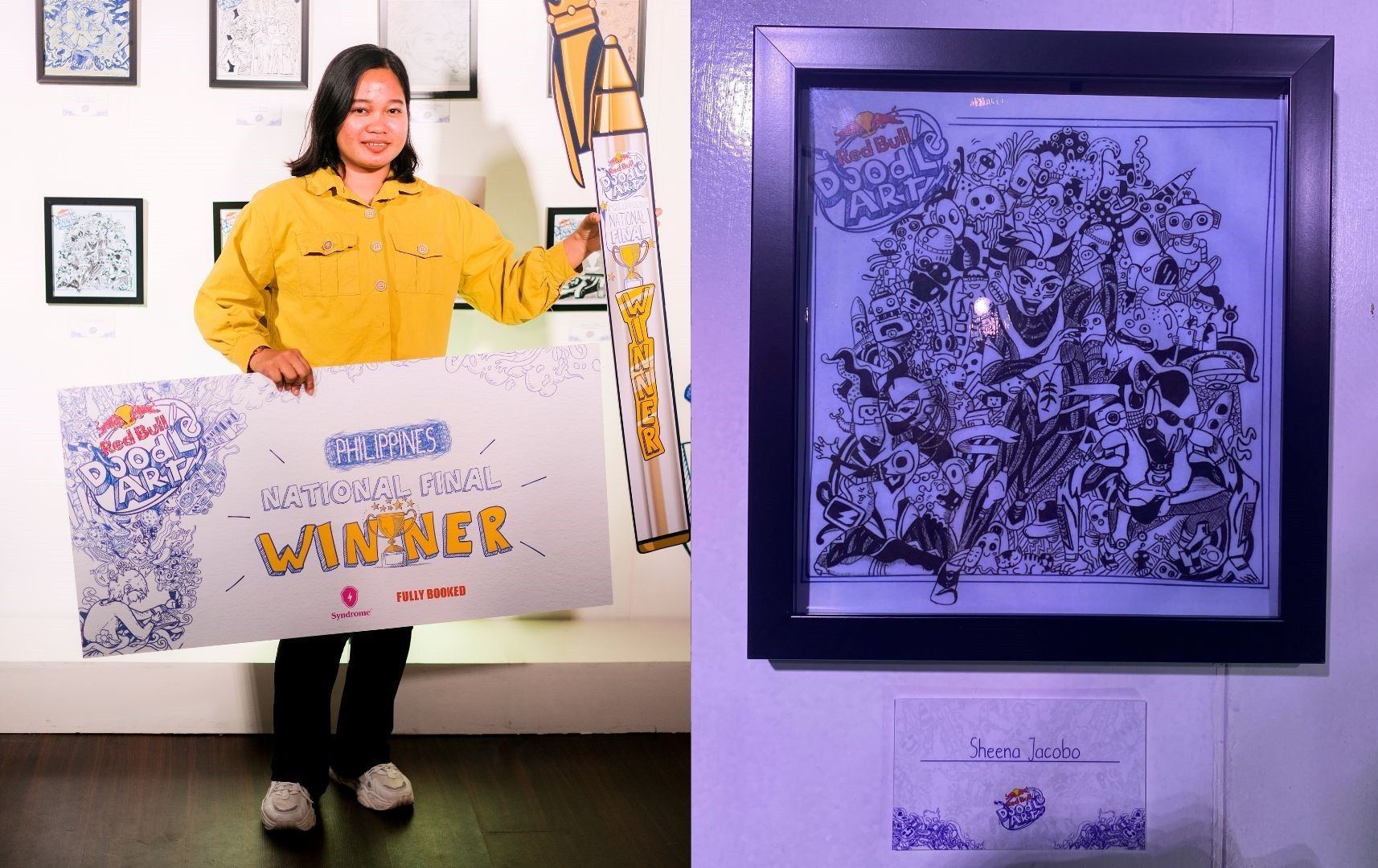 MANILA, Philippines — Bicolana Education masters student and former teacher Sheena Jacobo was crowned the national winner of this year's Red Bull Doodle Art competition, besting hundreds of artworks across the country that were trimmed down to 20 finalists.
As a result, Sheena will represent the Philippines at the 3rd Red Bull Doodle Art World Finals in Amsterdam, The Netherlands later this May 2023 going up against more than 60 other national winners.
"First of all, thank you so much for this opportunity. [Pinag-isipan] ko pa pumunta rito kasi napakalayo and 'yung chances of winning… as you can see marami naman ang magagaling," Sheena said at the National Finals last March 25, 2023.
Sheena admitted she wasn't even aiming for the top prize because she does not have a passport yet, which drew laughter from the crowd in attendance.
Finishing up the Top 3 were medical school student Lexi Cruz in 2nd place and small business owner Alex Rafael in 3rd place, as decided by judges and local artists Kookoo Ramos, Mong Barcelon, and Julienne Dadivas.
Like with pageant competitions, should Sheena be unable to continue, Lexi will go on to represent the country; regardless of who goes, the representative will work with an international artist to come up with the best non-fungible token (NFT) collectible artwork to secure the world title.
RELATED: Mindanao visual artists take the spotlight at Sentro Artista
Following the winners' announcement, Philstar.com sat down with Sheena, Lexi and Alex to discuss their winning artworks and their personal journeys as artists.
Alex admitted that his work had no particular inspiration, which is akin to his previous pieces with ink and digital work that are often very random and spontaneous.
"That is the beauty of doodling, there are no wrong lines or curves, no mistakes, but there's room for improvement," Alex continued. "I guess [the spontaneity] is because of my attitude; everyday I doodle — when I work, before I sleep — I guess you can say it's a force of habit."
He also shared that he had been doodling since elementary but stopped in college as his course had no relation to drawing, but he returned to it when the pandemic hit and he didn't have anything to do.
Meanwhile, Lexi humorously considered herself "one of the usual kids who grew up in an Asian household often told 'wala mararating sa art'," and even shared that she drew the work she submitted in the middle of class while in medical school.
"My inspiration for that artwork is that art can take you literally out of this world, so that's why I used an astronaut — transcending barriers and cultures, connecting people, that's what art can do," Lexi explained. "And I just want to tell people sa buong mundo that art can take you places."
RELATED: Basquiat-Warhol: a rare artistic duo, reunited in Paris
Sheena still had not shaken off her unexpected win, especially as she risked and used up all her savings from her last job just to travel from her hometown in Camarines Sur and witness the National Finals
"Hindi naman ako naghahangad na mag-Top 1 kasi nga 'yung passport, paano yan?!" Sheena reiterated with a smile, before explaining her winning doodle inspired by technology and robots.
The national winner bounced the spontaneity of doodling that Alex had mentioned earlier as she never really has an endpoint in mind when she doodles, adding her primary medium as a traditional artist are watercolors and sketching.
Asked if doodling can become a full-time passion or career, the runners-up were in agreement that it could.
Alex said he treats doodling as a side hustle, even drawing on Aquaflask jugs, while Lexi — whose art background are murals and digital design — said it comes down to branding.
"I think if you want to make it a career, you need to make your own personal branding. Kailangan 'yung style mo mag-stand out from the rest. You should let people want to buy your style," Lexi ended.
RELATED: Finding life in blank chaos: Alex Maceda on her unconventional artistic path
*****
Credit belongs to : www.philstar.com