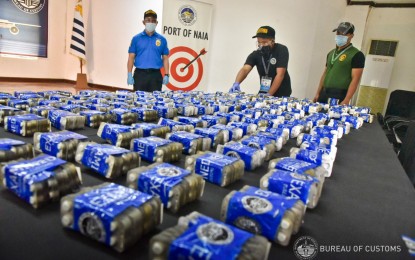 MANILA – Customs officers on Friday seized over 35,000 tablets of illegal drugs worth PHP1.8 million at the Ninoy Aquino International Airport (NAIA).
In a statement, the Bureau of Customs (BOC) said officers discovered a total of 35,345 diazepam (Valium) and nitrazepam (Mogadon) tablets during an inspection and examination of parcels in a cargo warehouse at the airport.
Records showed the cargo was shipped by a certain "Muztaza and Brother" from Pakistan and was misdeclared as health care products.
Diazepam (Valium) and nitrazepam (Mogadon) are considered as highly regulated drugs due to their addictive properties and characteristics as stated in the 1971 United Nations Single Convention on Psychotropic Substances.
Investigation showed the seized tablets were unlawfully imported into the country without the required License to Operate and Certificate of Product Registration from the Food and Drugs Authority (FDA) and import permit from the Philippine Drug Enforcement Agency (PDEA) pursuant to the Comprehensive Dangerous Drugs Act of 2002.
The seized tablets were turned over to the Philippine Drug Enforcement Agency (PDEA) on Friday for further investigation, case profiling and buildup against personalities involved in the unlawful and fraudulent importation.
Since January, BOC-NAIA with the active partnership of PDEA and NAIA Inter-Agency Drug Interdiction Task Group (NAIA-IADITG) has intercepted 43 different shipments of illegal drugs with a total value of PHP1.72 billion.
Meanwhile, the BOC through the Manila International Container Port (MICP) apprehended two 40-foot containers of undeclared frozen mackerel scad.
The shipment consigned to Hightower Inc. was apprehended on Dec. 2.
The containers were declared to contain frozen squid but initial findings of BOC personnel revealed that the shipment actually contained frozen mackerel scad.
The shipment supposedly violated Customs Memorandum Order (CMO) No. 04-2020, after its drivers were reported to have illegally removed the Electronic Tracking of Containerized Cargo (E-TRACC) GPS Seal without the presence of proper authorities.
A mission order was issued by MICP District Collector Romeo Allan Rosales for the conduct of full inventory of the goods at a cold storage facility located at Parañaque City.
The shipment is currently under further investigation and may be subject to seizure and forfeiture proceedings for violation of Sec. 1400 "Misdeclaration, Misclassification, Undervaluation in Goods Declaration" in relation to Sec. 1113, "Property Subject to Seizure and Forfeiture" of the Customs Modernization and Tariff Act (CMTA).
Another investigation on the shipment is underway for violation of rules and procedures of the BOC's E-TRACC system. (PNA)
Credit belongs to : www.pna.gov.ph