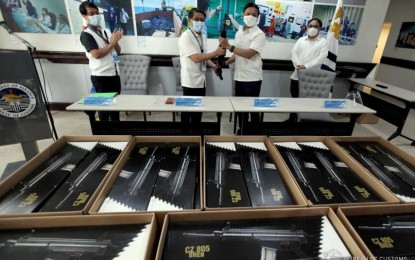 MANILA – The Bureau of Customs (BOC) on Friday received 65 firearms from the Philippine International Trading Corporation (PITC).
Commissioner Rey Leonardo Guerrero said the new equipment will boost the enforcement capability of the BOC against smuggling and illicit trade.
The procured firearms were CZ BREN 805A1 rifles manufactured in the Czech Republic.
The rifle is a modular assault rifle that is gas-operated (short-stroke gas piston) and comes with a selective fire self-loading rifle with a rotating breechblock, cold hammer-forged chrome-lined barrel design.
It is full-automatic and can be modified for use in both urban, jungle and aquatic engagements.
The BOC chief thanked PITC for providing them with quality firearms acquired at the best price possible.
He said even the vehicles that the BOC acquired through PITC in the recent past have been top-notch.
Meanwhile, PITC head and CEO Undersecretary David Almiranes also thanked the BOC for entrusting them with the task of procuring the said firearms.
He also thanked the Bureau for the cooperation and diligence in complying with the requirements and process. (PNA)
Credit belongs to : www.pna.gov.ph