The ambitious, trailblazing "Build Build Build" infrastructure modernization project of former President Rodrigo "Rody" Roa Duterte, which is one of the reasons he remains a popular Filipino politician today among the general public, was recently celebrated in a 351-page book authored by now Department of Information and Communication Technology (DICT) Undersecretary Anna Mae Yu Lamentillo entitled Night Owl: A Nationbuilder's Manual. The March 14 book launching was held at the Presidential Suite of Manila Hotel.
Arriving before 6 p.m. accompanied by his wife, Honeylet Avanceña and Senator Christopher Lawrence "Bong" Go, Duterte said in his extemporaneous and brief speech that during the end of his term, he was glad to see the fruits of the Build, Build, Build program, giving special thanks to his former Department of Public Works and Highways (DPWH) Secretary Mark Villar and Department of Transportation (DOTr) Secretary Arthur Tugade for implementing numerous big infrastructure projects, such as 29,264 kilometers of roads; 5,950 bridges; 11,340 flood control projects; 222 evacuation centers; 150,149 classrooms; 214 airport projects and 451 seaport projects.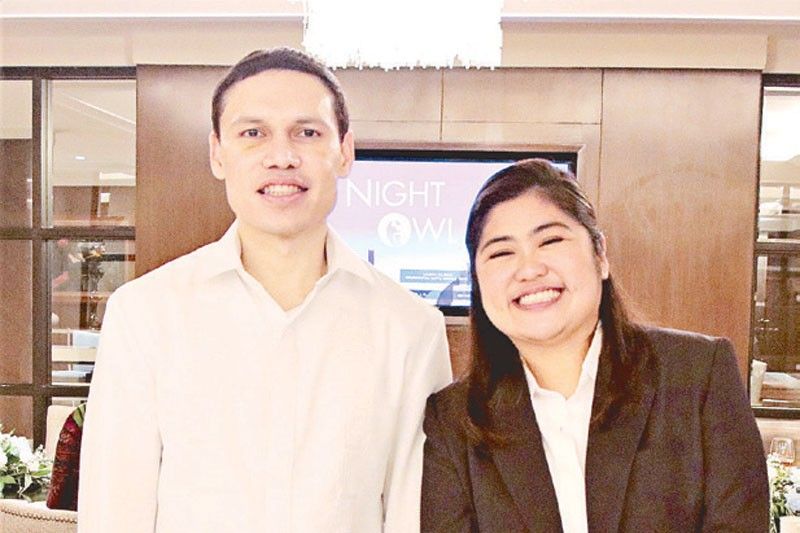 Vista Land president and CEO Paolo Villar with DICT USec. Anna Mae Yu Lamentillo
Duterte said in a mix of Filipino and English: "Sabi ko hatiin niyo lang lahat iyan, makatikim lahat ng regions, the whole country will benefit from the infrastructure fund. I never really bothered to ask for a month-to-month report. But nakikita ko, as I was going around the country as then president to look after the welfare. At nakikita ko na iyong progress nila and I knew that in my heart, pati dito sa Manila nakikita ko, that somehow I will go out of the presidency with a little pride na may ginawa ako para sa bayan." ("I instructed for them to divide all those, that all regions can benefit, the whole country can benefit will benefit from the infrastructure fund. I never really bothered to ask for a month-to-month report. But I saw, as I was going around the country as then president to look after the welfare. And I saw their progress and I knew that in my heart, even here in Manila, that somehow I will go out of the presidency with a little pride that I've done something for the country.")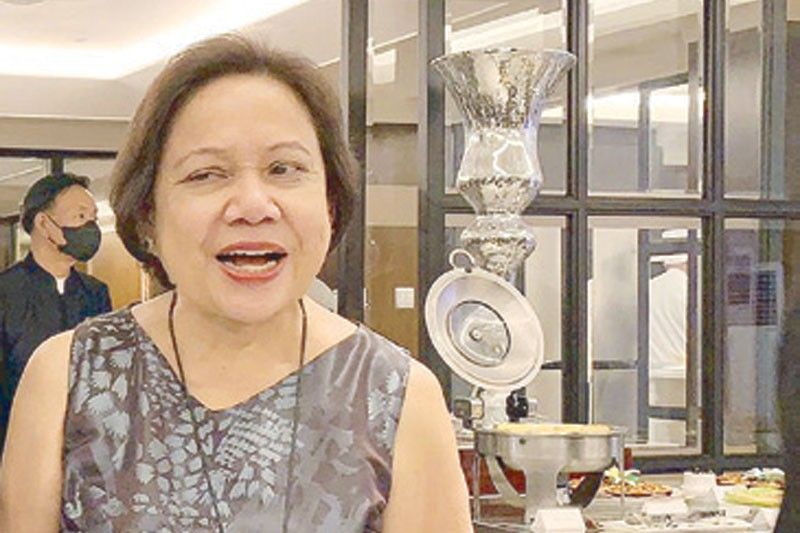 In her remarks, former President and now Senior Deputy Speaker Dr. Gloria Macapagal Arroyo said: "I want to congratulate President Duterte and his key men and I'm happy to say that I was also a part of the Duterte Administration, because I was Presidential Adviser for Clark programs and projects, so some of the infrastructure that we are now talking about were there in Clark, especially the international airport in Clark."
Senator Mark Villar said: "It's been the honor of my life to serve in your administration, and thank you, Sir, for believing in a young, 38-year-old appointee."
Villar also recounted how his former chief of staff and chairperson of DPWH's Build Build Build Committee Anna Mae Yu Lamentillo had approached him in her 20s at a café to apply to work for him. Also present to cheer him for the Build Build Build success were his mother, Senator Cynthia Aguilar Villar and his elder brother, Vista Land & Lifescapes, Inc. president and CEO Paolo Villar.
When asked to explain the title of her book and her Manila Bulletin column, Lamentillo said it referred to her often still doing work past midnight as a law student. She earned her Juris Doctor degree at the University of the Philippines (UP) College of Law while working at DPWH.
Other guests at the book launching included Senator Francis Tolentino, Bases Conversion and Development Authority (BCDA) chairman Delfin Lorenzana, former National Security Adviser Hermonegenes Esperon, President Bongbong Marcos' Deputy Social Secretary Dina Arroyo-Tantoco, Education Undersecretary Atty. Gerard L. Chan, Budget Undersecretary Goddes Hope Oliveros-Libiran, Department of Human Settlements and Urban Development (DHSUD) Assistant Secretary Daryll Villanueva and Region 1 Director Atty. Richard Ziga, Department of National Defense (DND) Defense Communications Service Chief Arsenio Andolong, BCDA vice president Lani Barlongay-Macasaet, BCDA PR officer Maricar Villamil, former Presidential Anti-Corruption Commission (PACC) Commissioner Atty. Manuelito Luna (who recounted that he was friend and a former lawyer of recently assassinated Negros Oriental Governor Roel Degamo), and other officials.
Also in attendance was the book's publisher, Manila Bulletin president and Philtrust Bank/Manila Hotel/CEU director Dr. Emilio "Emil" C. Yap III (who told me to thank Philippine STAR president Miguel Belmonte for referring a new book project to him, after I had first brought this book project to Belmonte and he said PhilSTAR doesn't print books but referred me to Yap's company, which he said does very good printing of books), the book's editor and Manila Bulletin Lifestyle editor AA Patawaran, the newspaper's External Affairs head Barbie Atienza, who acted as master of ceremonies of the event, the book's graphic artist Christian Santos and Manila Hotel sales and marketing director Marvin Kim Tan. The Night Owl book is a compilation of Lamentillo's columns.
Foreign embassies were also represented, with envoys like Vietnam Ambassador Hoang Huy Chung, Laos Ambassador Sonexay Vannaxay, Egypt Ambassador Ahmed Shehabeldin, Papua New Guinea Ambassador Betty Palaso, Malaysia Embassy Deputy Chief of Mission Mohd Fareed Zakaria, China Embassy Minister Counsellor Yang Guoliang with diplomats Michael Li and Li Shuhua, Russia Embassy First Secretary Nikolay Ovsyannikov, US Embassy Economic Consul Maggie Herring, Iran Embassy Economic and Political Chief Amin Javadi, Mexico Embassy Economic & Cultural Affairs Chief Marcos Octavio Vara Jacobo and Angola First Secretary Lourenco dos Santos Pedro Joao.
* * *
Thanks for your feedback. Email [email protected] or follow WilsonLeeFlores on Instagram, Twitter, Facebook and subscribe to my YouTube Wilson Lee Flores TV.
*****
Credit belongs to : www.philstar.com