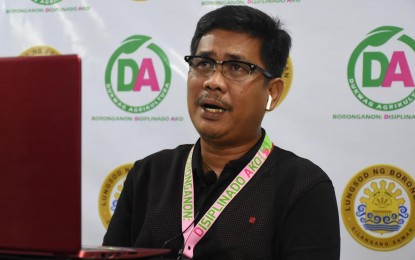 TACLOBAN CITY – The local government of Borongan City in Eastern Samar lifted on Monday the two-week hard lockdown enforced in communities near the city's commercial district.
Mayor Jose Ivan Dayan Agda issued Executive Order No. 005-0121 relaxing movement restrictions that were imposed for 14 days to prevent the spread of coronavirus disease 2019 (Covid-19).
"During the implementation of the hard lockdown, the city government, through the City Health Office, was able to trace and isolate all Covid-19 suspects through the voluntary antigen testing held in the city's different villages with suspected clustering of Covid-19 cases," Agda said in a statement on Monday.
In the past two weeks, there was a steady decrease in the number of confirmed Covid-19 cases, putting the city under moderate risk by the provincial health office, he said.
Agda said lifting some restrictions will allow businesses and other stakeholders to recover from the stringent protocols imposed when the city recorded a sudden surge of Covid-19 cases.
Although the city is now placed under modified general community quarantine, residents are encouraged to continue to follow the minimum health standard protocols, such as proper wearing of face masks, wearing of face shields when entering a business establishment, going to public places and offices, and observing safe physical distance.
Residents who are below 15 years old and above 65 years old are still prohibited from going out except for justifiable reasons like emergency and for buying essentials goods and services.
The city government already allowed mass gathering but this must be limited to 50-percent capacity of the venue, and participants must follow the minimum health standard protocols.
Business establishments, including private and public offices, must comply with the quick response (QR) scanning policy and must deny entry of a person without a QR code.
Restaurants are allowed to operate and may accept customers up to 75 percent of their venue capacity, and must comply with the QR scanning policy, and observe the public safety hour or curfew from 10 p.m. to 5 a.m.
The city government still prohibits contact sports like basketball but allows non-contact sports like biking and running provided that minimum health standard protocols are followed.
The city government also allowed tourist destinations and sites to resume operations and ordered stakeholders and operators to strictly enforce the minimum health standard protocols, including QR codes and curfew.
"Tourism sites, including resorts and other leisure destinations, will be penalized accordingly if found not compliant with this rule," Agda said.
Residents from other towns who are going to the city will have to present valid and updated medical certificates and QR codes, while authorized persons outside residence must include travel authority in the documents to be presented at the checkpoint. (PNA)
Credit belongs to : www.pna.gov.ph