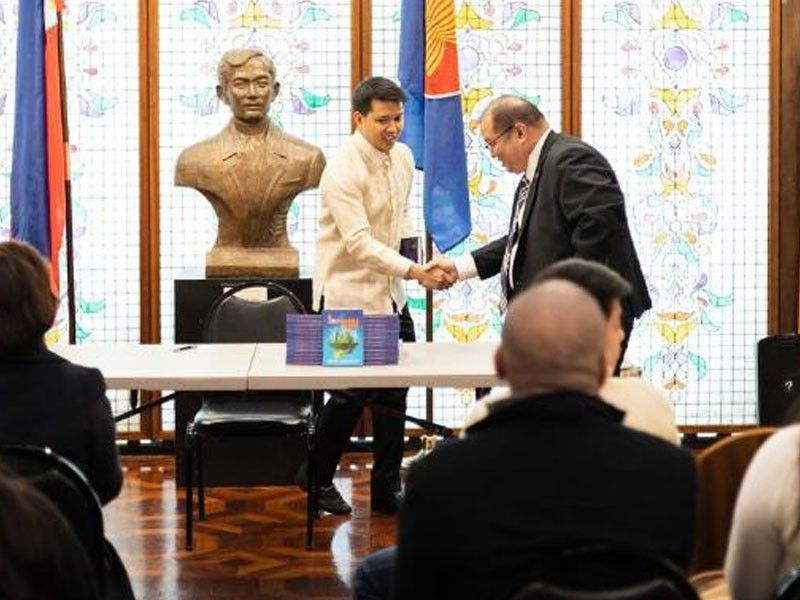 MANILA, Philippines – Brian Poe Llamanzares recently promoted his latest book, "A Sustainable Future", in a well-attended signing event at the Philippine Consulate in New York, drawing members of the Filipino community there.
Llamanzares' book sold out in a matter of minutes, and the author couldn't hide his surprise and expressed his gratitude for the warm reception he received.
"It was so heartwarming to feel the love and support of my fellow Filipinos abroad. I didn't bring enough books! I'm so happy to find people who are just as passionate about achieving a sustainable future for our country. I want to thank everyone who came to the event," he said.
Consul General Senen Mangalile praised Dr. Llamanzares for his work, noting the book's detailed yet pragmatic guide to adopting and driving sustainability practices.
"Dr. Brian's book outlines the potential to turn the Philippines into a socio-economic model for sustainability. It is a modern Filipino's guide to a deeper understanding of sustainability."
Llamanzares signed copies of his books for OFWs, members of the National Federation of Filipino American Associations (NaFFAA) — the largest Filipino American organization in the United States of America — and representatives from the Philippine Delegation to the 67th Session of the UN Commission on the Status on Women.
Undersecretary Margarita Gutierrez, head of the UN delegation, said Llamanzares' book is critical for future generations of young Filipinos.
"Climate change is a global emergency that threatens the future of our only home. Building a sustainable future is our only way forward. We must actively take action and stand against it. Filled with discussions and propositions that are rich and ingenious yet pragmatic and achievable, Dr. Poe Llamanzares' book entitled 'A Sustainable Future' is a wake-up call that we should all start caring for the Earth and be part of the solution," she said.
NaFFAA national chairman Brendan Flores, for his part, expressed delight with the turnout of the event, which packed the lobby of the Philippine Center in New York. He was impressed by Llamanzares' passion and stressed the importance of the book's subject matter for Filipinos around the world.
"It was well received by our Fil-Am community as we felt the fire in Brian's eyes as he shared his firm conviction for sustainability, not just today but also for future generations… I encourage our dear young friends to read this book and gain the hope for better days… Filipinos around the globe could work together to solve major sustainable development challenges in the Philippines."
Aside from his book signing, Poe-Llamanzares has been donating his book to some of the top schools and universities, including, Columbia, Fordham, Harvard, and Boston College. He stressed the need to share what's happening to the Philippines with the rest of the world.
"We need to raise awareness about our country. There's so little literature written about us even if we're one of the most climate vulnerable countries in the world. They should know how we're adapting to and preparing for climate change so they know how to help us as well," he explained.
Llamanzares said is looking forward to starting his campus tour back home in the Philippines. More importantly, he said he will be taking it one step further and will be providing schools across the country with a complete curriculum, slide show presentations and exams to help prepare students for a career in sustainability.
"A Sustainable Future" is available at National Bookstore branches in the National Capital Region, and online via Lazada and Shopee.
*****
Credit belongs to : www.philstar.com