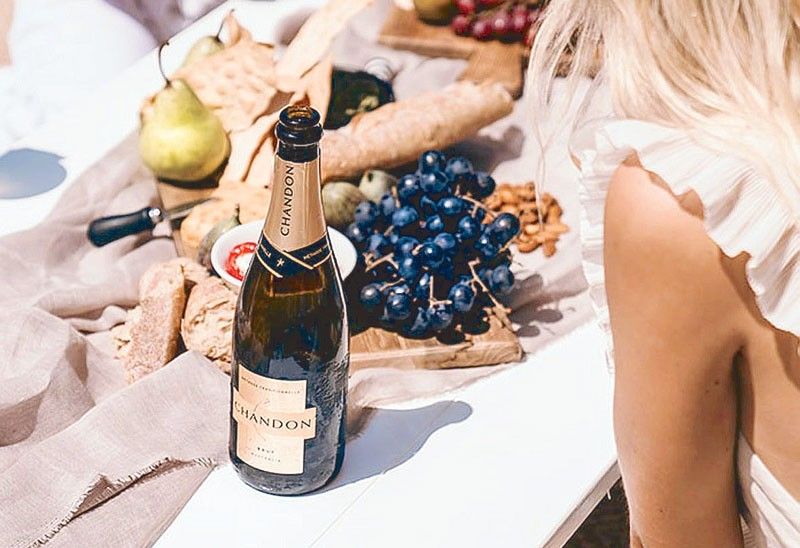 Leave it to Louis Vuitton Moët Hennessy the world's premiere luxury goods brand to elevate the sparkling wine experience to new heights.
Literally. Since Robert-Jean de Vogüé left France in 1959 to establish his first winery in Argentina 1,600 meters high in the Andes, the ambition of Chandon has been to explore new areas to cultivate, new terroir and new expressions around the world.
Now, Chandon has spread from its Argentina origins — the largest sparkling wine estate in the world at 1,400 hectares — to five other countries, including Brazil, the US (both in 1973), Australia (1986), China (2013) and India (2014), a total of four continents, making it, as Chandon business development manager Natalia Amaral calls it, "The only domaine on which the sun never sets."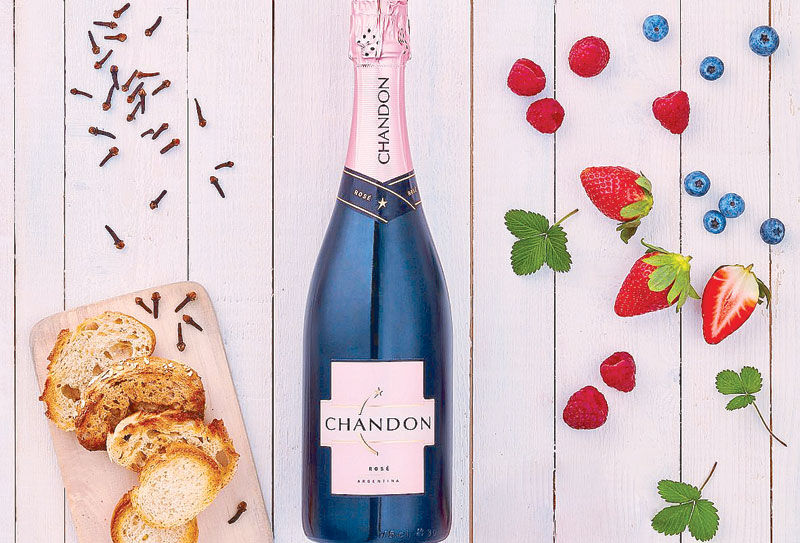 Think pink: Chandon Rosé has a bit of Malbec to give it that pale pink hue.
LVMH recently celebrated the proper launch of Chandon in the Philippines in style, sending media guests wooden crates stocked with bottles of Brut, Rosé and Délice wrapped in confetti, plus Wildflour snacks and fresh garnishes to make our own cocktails.
The idea is simple: LVMH wishes it could be here, celebrating the launch in a real venue, with a real community, instead of abroad streaming via Zoom, but we make the best of our moments these days. And exploring Chandon in a home-based masterclass was a good way to start.
Sparkling wine has several connotations to Filipinos. There is, of course, Champagne from the self-named region in Bordeaux; France, outside of Champagne, also has its Crémant; Spain has its Cava; Germany has its Sekt, and Italy produces Prosecco, the Italian bubbly that is so much more than Asti Spumante (but that's an exploration all its own).
Then we have Chandon, which should not have to compare itself with any others. Indeed, the wine bagged 78 awards in 2019 in international competitions; its grapes are cultivated with fresh Andean meltwater, digging down into the Argentinian desert soil to deliver the purest, crispest expression of sparkling wines.
To arrive at the special sparkling quality, Chandon combines the traditional and slow Charmat long-ferment winemaking processes; natural gases and bubbles are trapped during ferment and naturally introduced during filtration and bottling. Locally, "each domaine is selected based on the right combination of sunny days and cool nights, to create an ideal blend of fruitiness and complexity, making Chandon easy to sip."
"Chandon isn't like any other sparkling wine," adds Moët Hennessy SEA emerging markets managing director Patrick Madenjian. During previous visits here, he saw that "sparkling wine in the Philippines is mostly consumed by people who dream about drinking Champagne, but don't want to pay the price for it. And this is the wrong reason to drink anything. You should be proud of what you drink, you should be buying into an experience, you should be buying into the world that the brand is offering you."
So identity is key to Chandon. There's the back story, of course: "Chandon was actually created from the pioneering spirit of who we are," explains Amaral. "So put yourself in their shoes in 1959, where there was no infrastructure in Argentina, no sparkling wine culture, nothing. But since then, we have been truly creating a luxury brand."
Then there's the taste. The Brut, as we learned, is a blend of 60 percent Chardonnay and 40 percent Pinot Noir; it has finesse and balance on first sip, with hints of pineapple, lemon, crisp apple and peach. We were encouraged to try it in a mimosa cocktail (mixed with orange juice), or pair it with oysters or lemon butter scallops, soft white cheeses or zucchini flowers. (Next time, perhaps.)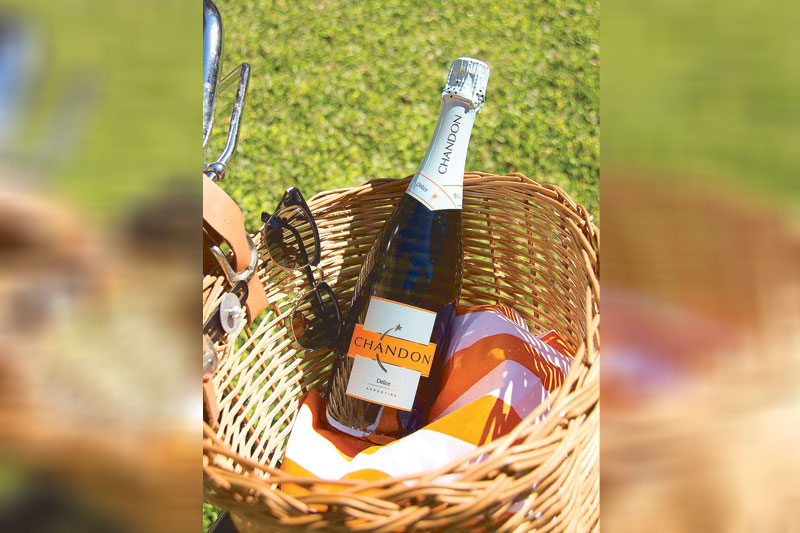 Chandon Delice is best served cold
Our next bottle was the Chandon Rosé (58 percent Chardonnay, 38 percent Pinot Noir, four percent Malbec), with a lovely pale pink hue (from the Malbec skins) and a silky, creamy taste; you'll pick up floral and red-fruit notes as well; it pairs wonderfully with grilled salmon, sushi and sashimi, but also heartier flavors like beef tenderloin, grilled prawns and roasted red peppers. Try it in a cocktail glass with syrup (pairs well with Aperol) and fruit garnishes (sliced apple, orange).
The final bottle was a Chandon Délice, a Chard-Pinot Noir blend with added late-harvest Semillon and Petit Manseng grapes for further expression. This one has very crisp citrus and apple notes — a tangy yet sweet experience. You may detect honey and even mango along with passionfruit. Pair it with tapas or red pepper skewers; or just serve it alone chilled or with ice and garnishes such as fresh ginger, basil and sliced cucumber, for a refreshing brunch cocktail. (P.S.: It's our new favorite.)
Yes, Chandon has something special to offer the Filipino palate, especially the key market, ages 20-30, according to Moët Hennessy director for SEA emerging markets Rommel Fuentebella: "When we enter the market, we want to be sure we offer the right products, and our research and taste tests with 'Fillennials' show the Délice caters to the local taste; it's good for our tropical climate. The other Chandons are also perfect for the Filipino palate, depending on the occasion of sharing the wines."
It may be some time before we're all out sharing wines together, but now's a good time to start exploring the tastes offered by Chandon.
* * *
Chandon Brut, Chandon Rosé and Chandon Délice are available through Boozy.ph, Winery.ph, Boozeshop.ph and Clink.ph and at favorite restaurants such as Wildflour, Cartel, Nikkei, Sunnae, Bungalow, Pablo, El Jardin, Lampara, Alegria and TED. Follow @Chandon_ph on Instagram and Chandon Philippines on Facebook.
*****
Credit belongs to : www.philstar.com