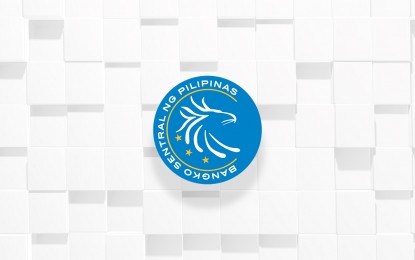 MANILA – Philippine monetary officials raised their balance of payment (BOP) surplus forecast for 2020 partly due to the government's increased foreign borrowings, but they slashed the 2021 projection.
The latest BOP projection for this year, as approved by the central bank's policy-making Monetary Board (MB) Thursday, is USD12.8 billion, which accounts for about 3.4 percent of gross domestic product (GDP) and is higher than the USD8.1 billion forecast made last September.
For 2021, the figure is now at USD3.3 billion, slightly lower than the USD3.4-billion projection last September.
"The revision reflects largely on the overall BOP position that was observed in the first 10 months of the year and is supported by the higher foreign borrowings by the national government, as well as lower merchandise trade deficit and inflows from foreign direct investments, overseas Filipino remittances as well as trade in services," BSP Monetary Policy Sub-Sector officer-in-charge Zeno Ronald Abenoja said during a briefing aired over the Bangko Sentral ng Pilipinas' (BSP) Facebook page Friday.
BOP refers to the record of a country's total transactions with the rest of the world in a certain period.
As of last November, the country's BOP surplus amounted to USD10.31 billion.
Based on the new projections, the current account (CA) component of the BOP for this year was revised upwards to USD8.4 billion from USD6 billion previously.
Goods exports are seen to post a lower contraction of 14 percent from -16 percent forecast earlier, while goods imports are expected to post a deeper decline at 21.5 percent from 20 percent earlier.
Services exports are forecast to post a -21.4 percent print this year, weaker than the -17 percent projection as of last September.
The gross international reserves (GIR) are seen to end the year at USD105 billion, higher than the USD100-billion projection earlier.
The 2021 forecast was also increased to USD106 billion from USD102 billion as of last September.
Meanwhile, the forecast for remittances was kept at -2 percent for this year and 4 percent recovery for next year. (PNA)
Credit belongs to : www.pna.gov.ph