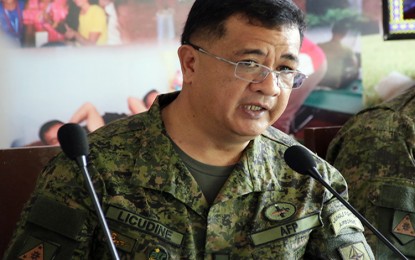 BUTUAN CITY – A top Army official has called on Caraga Region's business sector to help the government end the extortion activities of the communist New People's Army (NPA) in the area.
Brig. Gen. Maurito L. Licudine, commander of the Army's 402nd Infantry Brigade (402Bde), said extortion "capacitates the NPA to perpetrate atrocities".
In an interview Tuesday, Licudine cited the 402Bde data showing that from 2010 to date, the rebels had killed 166 government troopers and 113 civilians in Caraga Region.
"We capacitate these terrorists to kill more government troopers, workers, and innocent civilians by giving them funds through their extortion activities," Licudine said.
The Army official's call came after 16 business owners belonging to the Butuan City Chamber of Commerce (BCCC) and Filipino Chinese Chamber of Commerce Association Incorporated (FCCCAI) pledged their commitment on Dec. 17 to stop paying the revolutionary taxes being demanded by the NPA.
In July this year, at least 25 contractors and construction firms in the region also pledged not to give in to the rebels' extortion activities.
Licudine said that based on the brigade's information, the NPA collects around PHP15,000 to PHP20,000 a month from different business establishments in this city alone.
"In our estimate, the NPA rebels collect around PHP9.3 million every year in Butuan City alone. This amount of money is a big contribution for the NPA to grow their strength and sustain their terroristic activities in the area," Licudine said.
He said former NPA rebels have also provided vital information on the scope of the rebels' extortion activities.
One of the surrenderers, he said, was Lynlyn (name withheld for security reasons), who worked as a revolutionary tax collector for the NPA's Guerrilla Front 21.
Licudine said the surrender of Lynlyn sometime in June this year was a fatal blow to the extortion activities of the guerilla unit, led by its finance officer identified as Jelan Pinakilid.
Sometime in October this year, Licudine said authorities have arrested three revolutionary tax collectors of the same rebel unit. (PNA)
Credit belongs to : www.pna.gov.ph