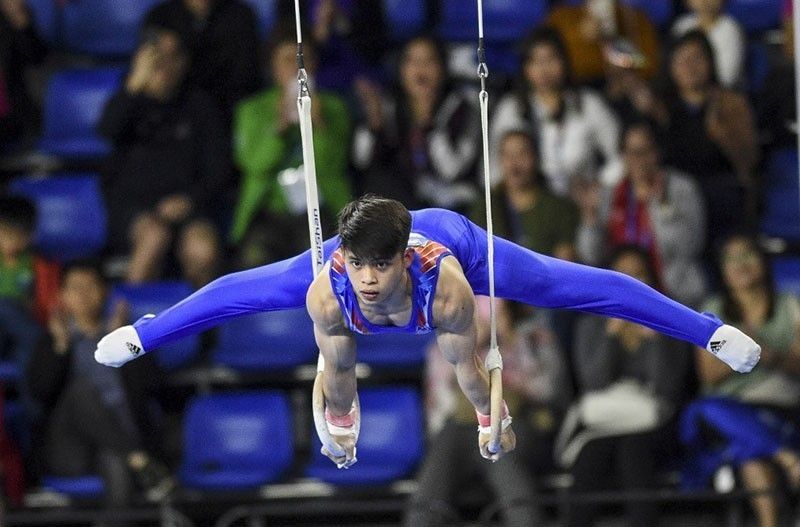 Carlos Yulo of the Philippines competes in the men's gymnastics artistic still rings event at the SEA Games (Southeast Asian Games) in Manila on Dec. 3, 2019.
Joey Villar
(Philstar.com) – December 20, 2020 – 3:05pm
MANILA, Philippines — Tokyo-bound Carlos Yulo is making sure he will not be distracted from his main goal of delivering the country's first Olympic gold medal in Tokyo next year.
That is the reason the pocket-sized, 20-year-old world champion gymnast is sacrificing spending Christmas with his family back home to stay focused on his training in Japan.
"Caloy wanted to come home for Christmas and I felt so bad to refuse him as this is the most focused he should be to win the gold medal in the Olympics," Gymnastics Association of the Philippines president Cynthia Carrion-Norton yesterday told The STAR.
Carrion-Norton said Yulo is now the early stage of his preparation towards Tokyo where he hopes to make a historic breakthrough.
"We have seven more months of focused training," she said.
Yulo is now No. 1 in floor exercise in the recent world rankings and is aiming to be No. 2 in vault.
And the Leveriza, Manila native is just peaking at the right time after he copped a pair of bronze medals in floor exercise and vault in the 74th All-Japan Championships a week ago.
It was an improvement from a mere bronze medal effort the 74th All-Japan Championships last September.
As It Happens
LATEST UPDATE: December 4, 2020 – 6:14pm
Monitor major updates as we follow developments in the 2020 Olympics in Tokyo.
December 4, 2020 – 6:14pm
The coronavirus-delayed Tokyo Olympics will cost at least an extra $2.4 billion, organizers say, with the unprecedented postponement and a raft of pandemic health measures ballooning an already outsized budget.
The extra costs come as officials work to build enthusiasm for the first Games postponed in peacetime, insisting the massive event can go ahead next year even if the pandemic is not under control.
But more spending, on top of the previous budget of about $13 billion, could further harden public opinion in Japan, where polls this year showed a majority of people think the Games should be postponed again or cancelled together. — AFP
November 29, 2020 – 12:09pm
The coronavirus-delayed Tokyo Olympics could cost $1.9 billion more than its original budget of $13 billion, a 15% increase, a report says Sunday.
The Olympics organisers will formally decide the increased budget for the Games as early as mid-December after communicating with the Japanese government and the host city Tokyo, the Yomiuri Shimbun reports, citing unnamed Olympic sources.
The 2020 Games were pushed back a year as COVID-19 spread around the globe, and are now scheduled to open on July 23, 2021. — AFP
October 24, 2020 – 6:33pm
Olympic chief Thomas Bach warns against allowing the Games to "descend into a marketplace of demonstrations" after criticism of a rule banning protests by athletes.
The International Olympic Committee president has come under fire for the ruling, announced in a year which has seen widespread support by athletes for the Black Lives Matter movement.
But Bach, who won a team fencing gold medal at the 1976 Olympics, said he had learned first-hand about the "political impotence of sport" when West Germany boycotted the 1980 Games over the Soviet invasion of Afghanistan. — AFP
October 20, 2020 – 3:08pm
Tokyo Olympics organizers say they were on constant alert for cyberattacks but had yet to suffer "significant impact" after Britain accused Russia of targeting the Games.
Britain's foreign ministry said Russian spies attacked the 2020 Games' organisers, logistics services and sponsors before the event was postponed by one year because of the coronavirus pandemic.
Tokyo 2020 officials say they had taken a range of countermeasures against digital attacks but did not disclose details, citing security concerns. — AFP
October 7, 2020 – 9:14pm
The cost of the coronavirus-postponed Tokyo Olympics will be slashed by $280 million, organisers said Wednesday, touting a scaled-back, less flashy Games, with cuts to everything from staffing to pyrotechnics.
But the final cost of the event, officially budgeted before the pandemic at 1.3 trillion yen ($12 billion), remains unclear because additional expenses caused by the postponement have not yet been made public. — AFP
Credit belongs to : www.philstar.com