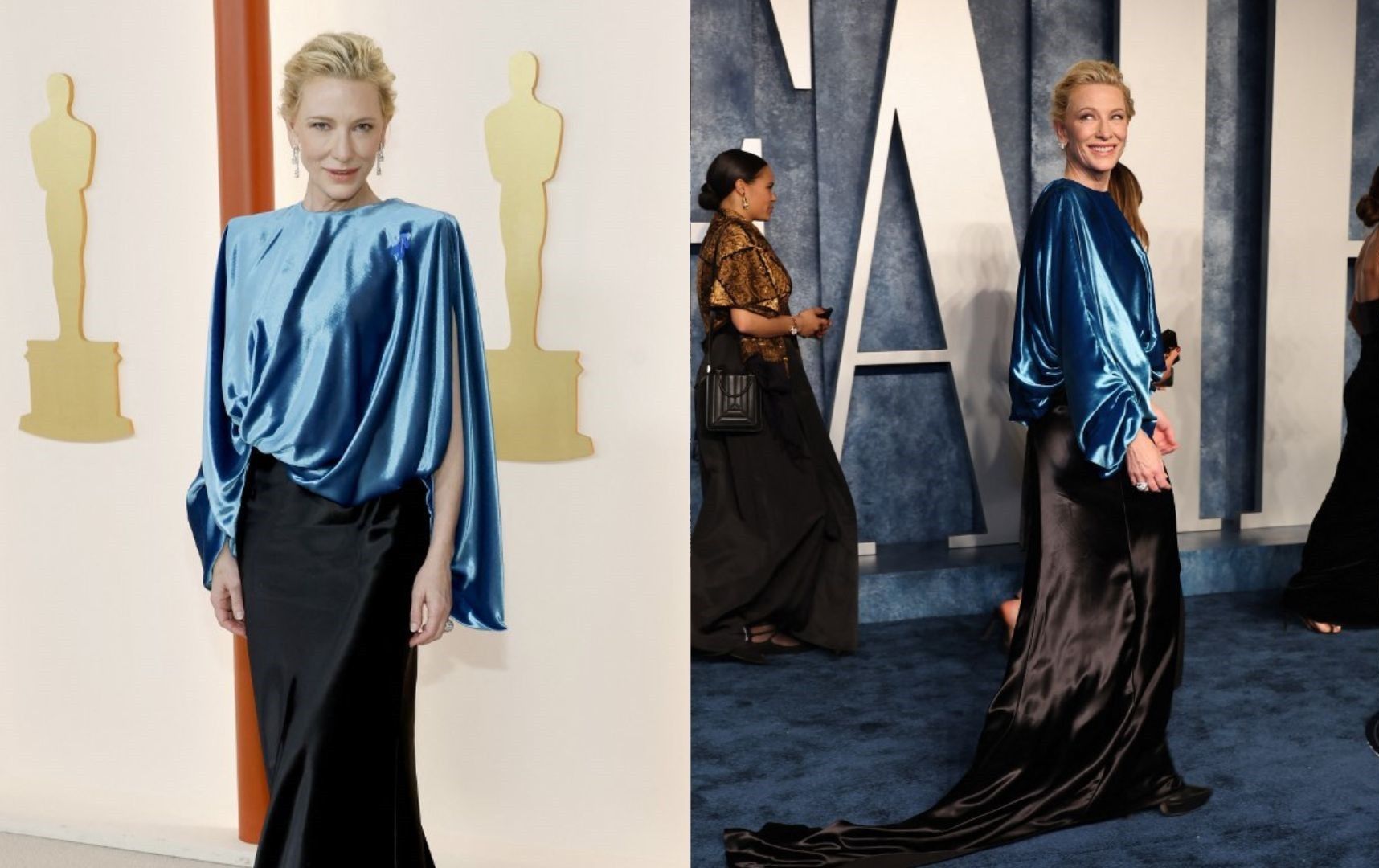 MANILA, Philippines — Despite not winning another Oscar, actress Cate Blanchett was showered with praise for using the same outfit she wore at the Academy Awards 2023 main ceremony to the the Oscars after party hosted by Vanity Fair.
The "Tár" actress wore a customized turquoise-teal and black Louis Vuitton ensemble — a fishtail skirt made with sustainable fabic and a draped top made from satin material — put together by her red carpet stylist Elizabeth Stewart.
Blanchett topped off the outfit with jewellery from the French fashion house as well as archival Giuseppe Zanotti pumps. Pinned to her fit was a blue ribbon in solidarity with millions of refugees and displaced people around the world.
"This sustainable look is designed with a top from an archival collection and a skirt cut from fully sustainable silk," Stewart confirmed on Instagram.
Other actresses who went for sustainable looks were Rooney Mara and Filipino-American Vanessa Hudgens, the latter co-hosting the red carpet, while Kendall Jenner and Kerry Washington opted for vintage looks at the after-party.
As a sustainable fashion advocate, the Australian actress is known for repeating and repurposing red carpet outfits in the past few years.
At this year's Screen Actors Guild Awards, Blanchett wore a black sequined Armani Privé gown that used lace from another Armani outfit that she wore to the 2014 Golden Globes and the 2018 Cannes Film Festival, winning Best Actress – Drama for "Blue Jasmine" in the former and sitting as jury president in the latter.
Meanwhile, at this year's British Film Academy Awards where she won Best Actress, she wore the black Maison Margiela gown she had worn to the 2015 Oscars, and at the recently-concluded Berlin Film Festival, revived another 2018 Cannes Film Festival outfit — her rainbow-colored Givenchy Haute Couture look.
For the entire week of the 2020 Venice Film Festival, Blanchett rewore old outfits that were cleverly altered, and at the London Critics' Circle film awards, she wore an Alexander McQueen suit that she debuted at a 2019 premiere.
Blanchett was up for Best Actress but lost a hotly-contested race to Michelle Yeoh for "Everything Everywhere All At Once," making the latter the first-ever Asian woman to win Best Actress.
"Everything Everywhere All At Once" was indeed the big winner of Oscars 2023 with seven trophies, including Best Picture and Yeoh's win.
*****
Credit belongs to : www.philstar.com