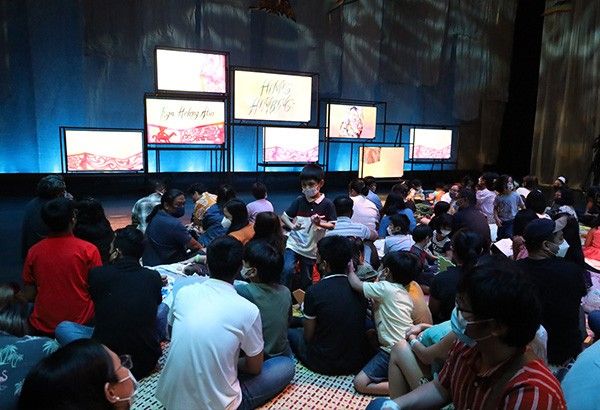 MANILA, Philippines — After slowly releasing the music videos of Filipino lullabies on its Facebook page and YouTube channel, the Cultural Center of the Philippines (CCP) has finally completed uploading all eight music videos (MVs) directed by notable directors, including Sigrid Bernardo and Law Fajardo.
The MVs feature the directors' mini-films on their assigned lullabies from different regions of the Philippines. It is a project of the CCP Arts Education Department through its Audience Development Division.
The project is aimed at reintroducing the Philippine indigenous lullabies to contemporary audiences and developing nurturers that are grounded in Philippine songs and heles.
The eight lullabies were developed based on the research of ethnomusicologist Sol Trinidad and arranged by musical director Krina Cayabyab.
Apart from Bernardo and Fajardo, the other directors are Alvin Yapan, Carla Ocampo, Teng Mangansakan, Milo Tolentino, Mes De Guzman and Thop Nazareno.
The following videos are:
"Sa Ugoy ng Duyan" (a Tagalog lullaby composed by National Artist for Music Lucio San Pedro with lyrics by National Artist for Music and Literature Levi Celerio),
"Katurog na, Nonoy" (a Bicolano lullaby sung by one whom a little boy looks for to put him to sleep),
"Wiyawi" (a traditional Kalinga lullaby often sung by caretakers, usually Cordilleran fathers),
"Aba-aba" (a lullaby indigenous to Southern Mindanao, particularly sung by the indigenous group Subanon),
"Hele" (a lullaby from a 1986 field recording of Dr. Elena Mirano taken in San Mateo, Rizal),
"Dungdungwen Kanto" (translated as I Will Love You, the first line of an Ilocano wedding song also often sung as a children's lullaby),
"Tingkatulog" (translated as 'Sleeping Time', a folk lullaby from the area of Bohol),
"Ili, Ili, Tulog Anay" (translated as 'Little One, Go to Sleep', a Visayan lullaby sung by a caretaker to a child and mentions a mother who is out buying bread)
CCP Board Trustee and Vice Chair Michelle Nikki Junia, who initiated the idea in the form of a lullaby, explained how both adults and children can benefit from listening to these lullabies.
"I requested to take a look at unpopular lullabies, not just the 'Bahay Kubo' (Nipa Hut) version, and dig deeper for a representation from various regions as we believe the country is very rich in traditions. We have to embrace and make that known."
An early childhood music educator, Junia noted the scarcity of Filipino lullabies in her classes, where the repertoire is mostly Western music.
"The importance of these oral traditions through lullabies is that the exposure of the infants at a very young age already gives them an idea of their identity," she added. "We know that most of the time, when we have social events with other nationalities, there is some level of envy, because they really know who they are. But the Filipinos, because many foreign countries have colonized us, there is a confusion of who we really are. We have to accept this problem."
The videos of Himig Himbing: Mga Heleng Atin can be viewed on the CCP Facebook page. For more details, check out the CCP website or follow the official CCP social media accounts on Facebook, Twitter and Instagram.
RELATED: CCP releases indigenous lullabies interpreted by Nica del Rosario, Bullet Dumas
*****
Credit belongs to : www.philstar.com