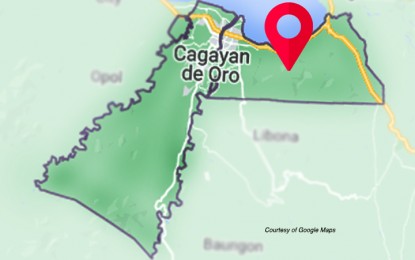 CAGAYAN DE ORO CITY – Four persons allegedly selling fake gold bars were arrested during an entrapment operation conducted by the police's City Mobile Force Company (CMFC) in Barangay Gusa here on Saturday.
Seized from the alleged sellers were two gold bars that police said were counterfeit gold bars, three mobile phones, a genuine PHP1,000 bill, and a bundle of bogus bills and pieces of paper.
One of the phones contained the text messages exchange between the suspects and CMFC agents.
Authorities identified the suspects as Rey Naranjo, 58, of Barangay Indahag here; "Junalie," 58, from Tagoloan, Misamis Oriental; "Jerson," 28, from Malitbog, Bukidnon, and "Jimwel," 33, from Sumilao, Bukidnon.
Five other suspects remained at large.
They are alleged members of Ganghaan Landless Association (GALA) which sells gold bars, particularly in the eastern part of this city and in Misamis Oriental and Bukidnon.
Initial investigation also showed that Gala has contacts with gold bar suppliers from Kitaotao town and Malaybalay City in Bukidnon.
Lt. Col. Joepet Paglinawan, CMFC force commander, said in an interview that complainant "Mitchel" from Opol, Misamis Oriental sought their help after he was allegedly defrauded of PHP500,000 by the suspects when they met in April.
The complaint prompted the CMFC to set up an entrapment operation using the information they gathered from Mitchel and other sources, said Maj. Ericson Sabanal, leader of the arresting team.
The suspects' modus operandi was to show real gold coins first to prospective buyers.
Once the victims are convinced, they will then try to sell them gold bars.
For the setup transaction, Sabanal said the suspects offered to sell two gold bars, which they claimed are worth PHP15 million, for only PHP1.8 million.
Sabanal said they have been monitoring the suspects for two weeks prior to the entrapment operation.
"To avoid being arrested, the suspects chose the area for a meetup. That's why we had a hard time capturing them," he said in an interview.
Identification cards confiscated from Naranjo showed he is a member of the Philippine National Police's (PNP) Regional Intelligence Group in Northern Mindanao and the Moro National Liberation Front (MNLF), signed by its leader, Nur Misuari.
Sabanal said they are still verifying if Naranjo is indeed affiliated with the PNP and MNLF.
In an interview, Naranjo said he did not know that the gold bars were fake but vouched that the gold coins are authentic.
"I own them as part of my collection," he said.
Naranjo said he was into mining but shifted to gold trading, hoping to earn more without toiling in mines. (PNA)
*****
Credit belongs to : www.pna.gov.ph