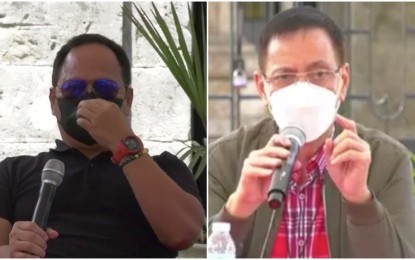 CEBU CITY – City officials here on Monday reminded politicians and residents against the holding of and attending activities that would generate a crowd and trigger another surge in coronavirus disease 2019 (Covid-19) cases, noting that the election season and Christmas are nearing.
In a press briefing, Acting Mayor Michael Rama reacted to a report of a barrio fiesta event in Barangay Talamban where a religious activity drew a throng of people after the organizer allowed a drum and bugle corps to play music as residents venerated the patron saint.
Rama said he was leaving to the local police and Department of the Interior and Local Government the decision on penalizing individuals who violated the executive order on the prohibition of public gatherings.
"The requirement on capacity with respect to gathering for wedding, baptismal, and burial. We won't conclude who's the barangay official responsible for that activity. But definitely, we are a government of laws and of rules, as acting mayor, the EOC (Emergency Operations Center) and the police knows… No sacred cows," he said in mixed English and Cebuano.
In a separate statement posted on social media, Rama said the past Christmas holidays should be a "big lesson to learn" that if the people gather in huge groups during parties and disregard the minimum health protocols, Covid-19 cases would surely spike.
"Many thought it was over, or at least on a downtrend. We got complacent and took off our guards… feel that, as a community, even as a nation, we have yet to achieve some level of resilience when consciousness for others needs to be ingrained in our minds in the way we conduct ourselves outside," the acting mayor said as he stressed the importance of adherence to "Oplan Puyo" (operations plan stay at home) beyond the month of September.
Councilor Joel Garganera, who heads the EOC, reported that Covid-19 has slowed down in the capital city, with only 38 new cases logged on Sunday.
The total number of active cases here is 2,011.
The daily positivity rate on Sunday was low at 6 percent, Garganera also said.
He attributed the gains in the battle against coronavirus to the "effort of the convergence" led by the EOC, as he cited the intensified visibility of uniformed police in the barangays to quell violations in the protocols.
Garganera also reminded village officials of the conduct of political campaigning in their areas and advised them to monitor possible violations of the health protocols.
"If you can recall, big countries like India and the US blamed the spike of Covid-19 cases in political gatherings. Many died because they tested positive after political gatherings. These lessons are what we need in order to adhere to the protocols," the city official said. (PNA)
*****
Credit belongs to : www.pna.gov.ph