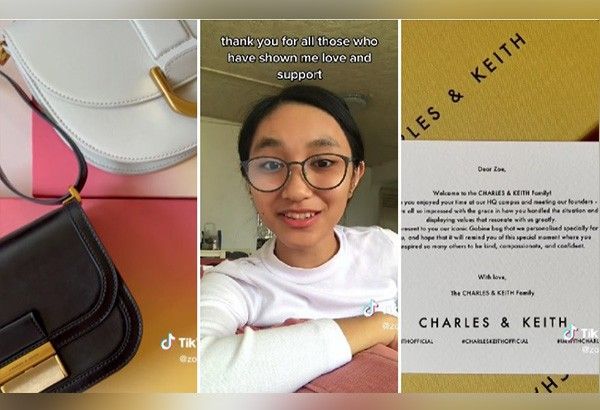 MANILA, Philippines — How things have turned for the Singapore-based Filipina teenager Zoe Gabriel as she was gifted with two new bags by fashion brand Charles & Keith.
Zoe shared an update on her Tiktok where she showed the pair of black and white saddle bags.
"To everyone who has shown their support and endless kindness, this is for you. You have made things happen for me I never thought possible, taught me lessons I will never forget, and have given me so many valuable memories. I would not be here if it weren't for you, and for the millionth time and counting, I give you all my love, thanks, and well wishes; I am forever grateful and indebted to you all," she wrote on the caption of her Tiktok video.
Last week, Zoe received messages of support after being bashed for calling Charles & Keith a luxury brand.
She reacted to a comment on her post that referred to the brand, and shared her experience growing up not being able to afford buying expensive items.
News of her being bashed reached the brand, and immediately after, company founders Charles and Keith Wong invited Zoe and her dad, a mechanical engineer working in Singapore, to have lunch and tour its headquarters in the popular Southeast Asian city-state.
RELATED:'What is luxury?': Netizens define term as Pinay teen gets bashed for calling Charles & Keith luxury brand
*****
Credit belongs to : www.philstar.com