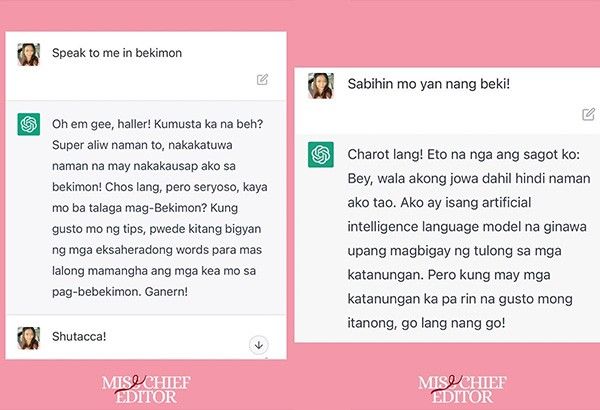 MANILA, Philippines — Learning a new language is not an average task, but for the much-talked about chatbot ChatGPT, it managed to converse in "Bekimon" in a matter of seconds.
Journalist and editor Pola del Monte wanted to test the aptitude of the artificial intelligence (AI) which already knows Filipino. She tried to converse in Bekimon, or the lingo used by the gay community in the Philippines.
It was a natural occurence for Del Monte since she is taking a class in Development Communication at Harvard University, and one of their recurring discussions is the impact of ChatGPT on communication.
"I was testing ChatGPT's ability to be conversational and floated a question in Tagalog. Because it was able to respond in Tagalog, I decided to push it further with Bekimon," said Del Monte in an email interview with Philstar.com.
Del Monte took up Bachelor of Arts English Studies with major in Language at the University of the Philippines Diliman. She currently runs misschiefeditor.com, which has a site and an Instagram account where she posts writing tips and critiques about language use in media, politics and pop culture.
For her, it was natural to be curious of chat bots as a field of development to look out for.
"While a lot of people see it as a threat, I try to think of it as a tool, like a calculator or a sophisticated search engine. It still has many loopholes, but it also has a lot of potential," she said.
She tested it out, like a science experiment, and she found it has limits.
"I tried it earlier to check if it is aware of other colloquial terms, such as 'Sharon.' It repetitively gave an erroneous response that it means 'to share.' It's not yet perfect, and it's not reliable, but it's entertaining," she added.
Responsible, ethical AI
Del Monte has tried other AI, such as Canva and the AI noise-canceling app Krisp, which was recommended to her by a client who overheard her dogs while in a video conference.
As she has previously mentioned, AI needs able and knowledgeable human intervention when used. For instance, Canva has helped her save on her overhead costs, but it is still her knowledge on layout design that delivers her desired output. The app is only just a tool that helps her make her design or work easier.
Last week, some members of the Writers Guild of America expressed their sentiments over some major studios' plan to tap AI to write scripts for future projects.
As a former writer of a national broadsheet, contributor of an online media outlet and an editor herself, Del Monte is aware of the ongoing debate and discussion of the impact of ChatGPT on journalism, and to the extent, the education sector.
She argued that the chatbot still needs quality content in order to work, and as an AI that sources its material from everything that is on the Internet, it still gets its content from professional writers. At this stage, its content are mostly "generic."
"At this stage, I think that a human being is still needed to assess the content that it generates, rewrite it in a way that adds flair and human interest, which makes editors and proofreaders even more relevant. And because ChatGPT is not human, it will still lack human sensibilities, such as the ability to communicate certain levels of sympathy and urgency. These more nuanced types of writing will always require a human brain," Del Monte said.
She pointed out that digitalization has always been a challenge for traditional media, the notion that it is killing print. Del Monte, however, chooses to see it from another perspective.
"Resisting development will not help us escape obsolescence. The challenge is: how do we upskill to make these technologies work for us?" she said.
Fear the living, not the 'dead'
With the news that Dr. Geoffrey Hinton quit his post at Google last week, conversation on the dangers of AI intensified. Dr. Hinton warned about the repercussions the technology may have at the pace the "AI Wars" is going between leading tech companies in their quest to develop the most-advanced chat bots.
The 75-year-old cognitive psychologist and computer scientist is often referred as the "Godfather of Artificial Intelligence," whose work on neural networks and deep learning beginning the 1970s is credited to have paved the way for the development of AI.
"It is hard to see how you can prevent the bad actors from using it for bad things," Dr. Hinton said in his New York Times interview.
Del Monte shared the breaking news story, and also shared her thought at Dr. Hinton's statement.
"We should fear the living, not the dead. Proper safeguards must be in place to avoid this technology to create chaos.
"Technology always has its own pros and cons. For example, social media has allowed more people to have a platform. However, it has also allowed misinformation to thrive. In a similar manner, AI can be used for good, but it can also be used for evil," Del Monte said.
RELATED: From recipes to essay in seconds: Why ChatGPT is causing a frenzy
*****
Credit belongs to : www.philstar.com