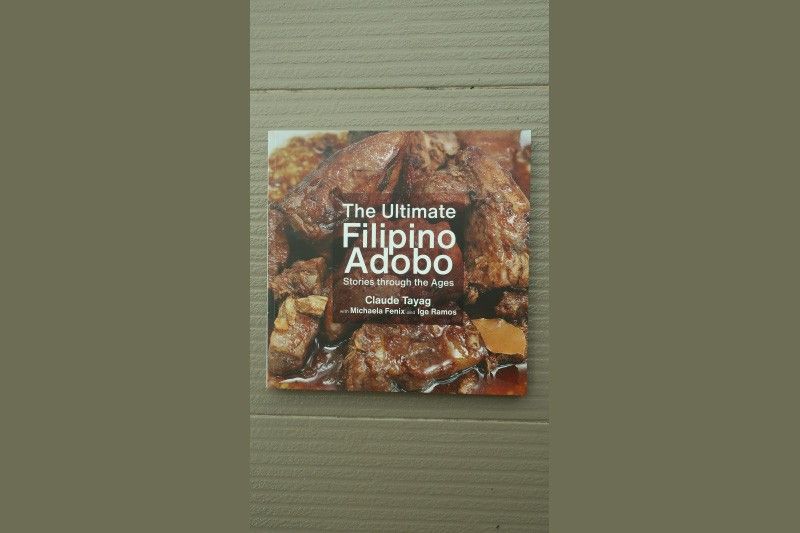 MANILA, Philippines — Adobo is considered as the Philippines' "national dish," although unofficially.
This is because it is one of the most well-known Filipino dishes and a top favorite, too! Ask any foreigner who has been to the country and tried some of its most iconic dishes what his (or her) favorite Filipino dish is, and he would most likely say "Adobo."
What's unique about the Adobo is that it is so ingrained in the Filipino culinary culture that almost every region or province in the country has its own version of the dish. Families likewise have their own heirloom Adobo recipes. Which means that Adobo is one of the classic Filipino dishes whose recipe cannot be standardized because there are simply so many versions to integrate into what should be the unified recipe. To even try to standardize it would be a chaotic process because Adobo is more than just a dish; it is also a cooking process. And this, as Chef Claude Tayag of Bale Dutung puts it in the introduction of his new book, "The Ultimate Filipino Adobo: Stories Through the Ages," is "where all the confusion starts."
Adobo, or "Inadobo," as a cooking method, is very versatile. It goes with any protein pork, chicken, beef, even lamb, fish, seafood such as squid, octopus and mud crab and emerges as different dishes, each unique and delightfully tasty, but essentially inadobo. Even vegetables can be cooked the Adobo way, including Adobong Kangkong.
To qualify as an Adobo, the meat, poultry, fish, seafood or vegetable should be cooked by simmering with vinegar with various seasonings and spices, or boiled straightaway, or marinated first then braised and pan-fried until the meat's oil is rendered, and finally simmered with its marinade and water until tender. Hundreds of variations from these simple "rules" have now spawned thousands of Adobo recipes.
This is why Chef Claude Tayag, who, along with charming wife Mary Ann Quioc Tayag, has experimented with different variations of the quintessential Filipino adobo and served them to appreciative guests at their family-owned destination dining place in their home in Pampanga, Bale Dutung.
Now, Chef Claude shares these Adobo stories in his new The Ultimate Filipino Adobo book published by the Foreign Service Institute headed by its director-general José Maria A. Cariño. It features Filipino Adobos as they are known today Adobong Baboy, Chicken and Pork Adobo sa Toyo, Adobo sa Atsuete, Adobo sa Puti (with vinegar only), Adobo sa Dilaw (with luyang dilaw or turmeric), and Adobo sa Gata (cooked in coconut milk).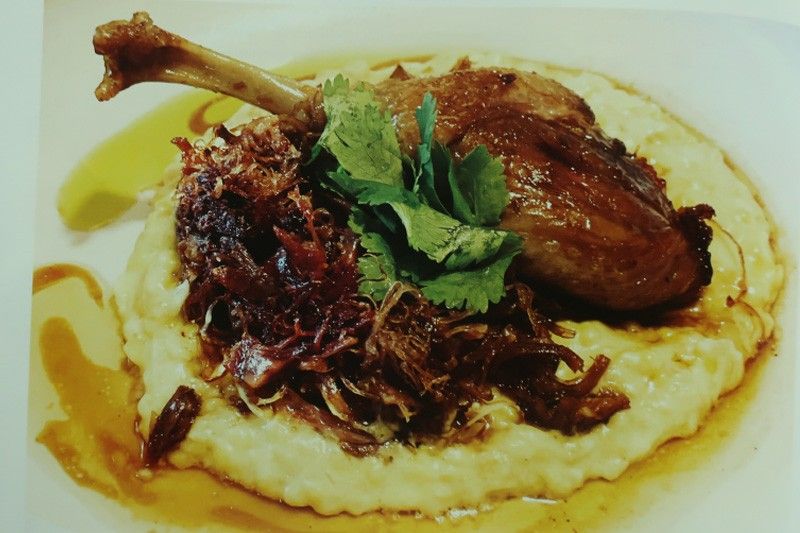 Duck Adobo Confit by Chef Sau del Rosario
The book also devotes a lot of pages to pre-Hispanic adobos, such as the Ilocano Dinaldalem (an adobo of pig's liver) and Igado (pork tenderloin with innards of liver, kidney, heart and spleen, along with carrots, green peas, potatoes and chickpeas), Kapampangan Kilain (a mixture of pork kasim, liver, and lungs, soaked in vinegar and then simmered until it dries up), Tagalog Paksiw na Bangus, Cebuano Inun-unan nga Isda (like Tagalog paksiw na bangus but less acidic), and Ilonggo Pinamalhan nga Bilong-bilong (moonfish simmered in vinegar, garlic, ginger, and other spices until almost dry).
"The Ultimate Filipino Adobo" also features old adobos like Pampanga's Arobung Ema (mud crab adobo) and Cebu's Adobong Pina-uga (crispy dry pork belly adobo) to unique new adobos such as Adobong Balut (unhatched duck embryo), Adobong Kamaru (mole crickets), Adobong Tugak (frog), Lamb Ribs Adobo by Chef Sunshine Puey, Duck Adobo Confit by Chef Sau del Rosario, Adobo Bisaya by Chef Myke 'Tatung' Sarthou, and Adobong Kalabaw at Papaya sa Gata by Chef Theodore Day Salonga.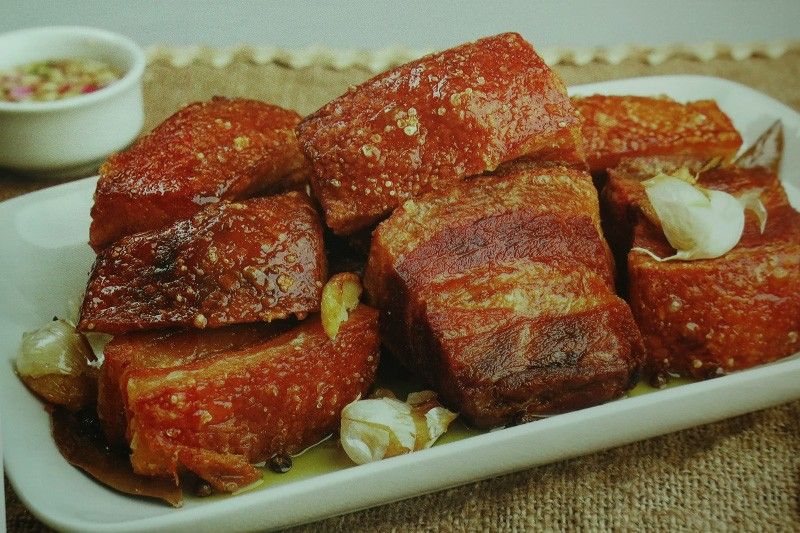 Adobo Bisaya courtesy of Chef Myke 'Tatung' Sarthou
Interpretations of adobo whipped up by Filipino chefs and cooks from different parts of the globe have also made it to Chef Claude's book, where he tells the story of each of these adobos and shares the process by which they are cooked.
Edited by Michaela Fenix, with Guillermo "Ige" Ramos as creative director, "The Ultimate Fillipino Adobo" covers the universe of the Filipino adobo comprehensively, with love, like slow-cooked adobo that's down to its last few minutes of simmering in the pot, releasing an aroma that makes you salivate.
RELATED:Adobo becomes first Filipino food featured in Google Doodle
*****
Credit belongs to : www.philstar.com