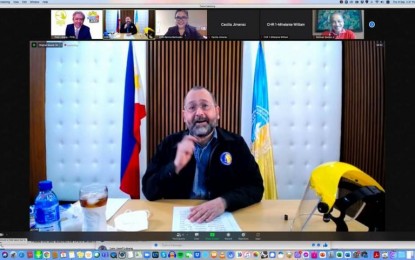 MANILA – The Commission on Human Rights (CHR) on Thursday said it has no role to play in the investigation launched by the International Criminal Court (ICC) into possible crimes against humanity committed under President Rodrigo Duterte's anti-narcotics crackdown.
During the budget deliberations at the House of Representatives, CHR chairman Jose Luis Gascon said the commission's mandate originates from the 1987 Constitution, and not from the Rome Statute–or the international treaty that instituted the ICC–which means that the rights body does not have any formal ties with the tribunal's investigation regarding international crimes.
"That is a matter entirely within the control and operations of the International Criminal Court as such. There is no direct or immediate relationship of the [CHR's] work with the operations that will be undertaken by the Office of the Prosecutor as it conducts its investigation," Gascon said.
Gascon also noted that CHR has not received any formal communication or request from the ICC regarding the impending investigation.
"Nonetheless, should we receive a formal communication and a formal request from the ICC, we will take whatever they present to us in that formal request under consideration at the appropriate time. Right now, it is speculative," he said.
The ICC's pre-trial chamber approved Wednesday the request of its former chief prosecutor, Fatou Bensouda, to authorize the full-blown probe into Duterte's drug war even after the Philippines already cut ties with the international tribunal.
It said there was a "reasonable basis" to proceed with an investigation, given that the "specific legal element of the crime against humanity of murder" had been allegedly met in the anti-narcotics campaign.
In March 2018, Duterte ordered the Philippines' withdrawal from the Rome Statute after Bensouda continued with the preliminary examination into his anti-illegal drugs campaign in February of the same year.
The Philippines officially cut ties with the ICC on March 17, 2019, or exactly a year after the Rome Statute's revocation.
Bensouda, whose term as ICC prosecutor ended on June 15 this year, had asked the court's pre-trial chamber to allow the conduct of an investigation into Duterte's drug war.
Chief Presidential Legal Counsel Salvador Panelo, meanwhile, slammed the "blatant and brazen" attempt of the ICC to meddle in the Philippines' domestic affairs, particularly its handling of the rampant illegal drug trade in the country.
Panelo maintained that the ICC has no and never had jurisdiction over the Philippines and its citizens.
"Our position concerning the proceedings before the International Criminal Court (ICC) remains. The foreign institution has no — as it never had — jurisdiction over the affairs of the Republic of the Philippines and its people," he said.
Panelo said the ICC's latest move "neither bothers nor troubles the President and his administration." (PNA)
*****
Credit belongs to : www.pna.gov.ph