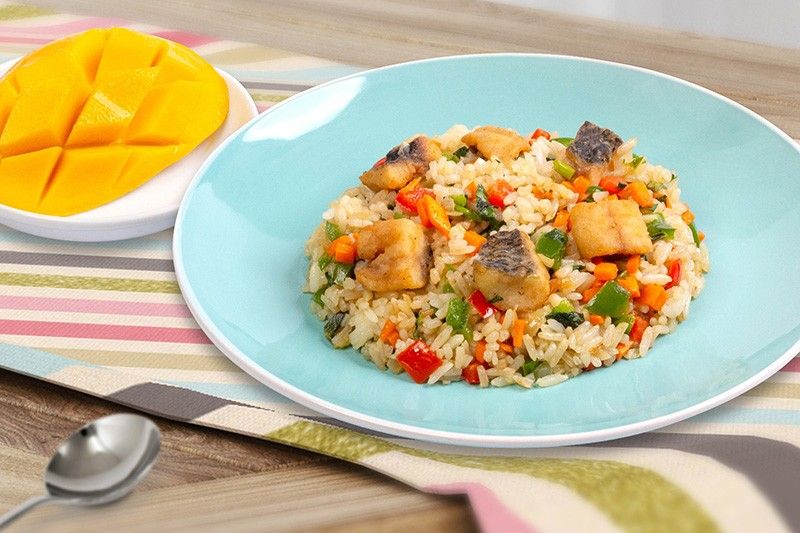 MANILA, Philippines — Kids need to have a "Grow" food in their meals for them to develop a healthier body.
Fish is a "Grow" food, and tilapia is one type of fish that is very easy to find in the market and easy to cook as well.
It is also nutritious because it is rich in selenium, a mineral that helps prevent sickness and infection. It may not be as popular with kids as, say, chicken or pork, but it's healthier, and this recipe from Ajinomoto Philippines Corporation is sure to make it even more delicious.
Fried Fish in Veggie Fried Rice
INGREDIENTS:
For the fried fish:
1/4 kg. tilapia, filleted
1 pack Crispy Fry Breading Mix Fish (20 grams)
1/2 cup cooking oil
For the fried rice:
1 tbsp. cooking oil
3 tbsps. minced onion
1 tbsp. minced garlic
1 1/2 cups diced carrots
1 cup diced red bell pepper
1 1/2 cup kangkong leaves, chopped
2 tsps. soy sauce
1/3 pack Aji-Shio Garlic Seasoning Mix (6 grams)
3 cups boiled rice
PROCEDURE:
1. Coat tilapia fillet with Crispy Fry Breading Mix Fish.
2. In a pan, heat oil. Fry fish until golden brown and crispy on both sides. Drain off excess oil using strainer or colander. Slice fish into bite-sized pieces. Set aside.
3. Cook the fried rice. In a pan, heat oil. Sauté onion and garlic until fragrant. Add carrots, bell pepper and kangkong, then sauté for 2 minutes.
4. Add soy sauce and Aji-Shio and mix well. Add rice, then mix until well incorporated. Add the fried fish then cook for 3 minutes.
5. To serve Fried Fish in Veggie Fried Rice meal for kids, assemble in a plate 1 1/4 cups of Fried Fish in Veggie Fried Rice. Serve with 1 slice of mango and 1 glass of water.
*Tip: You may substitute tilapia with bangus, galunggong or dilis.
RELATED: Dig in! Summer food trip for the long weekend ahead
*****
Credit belongs to : www.philstar.com