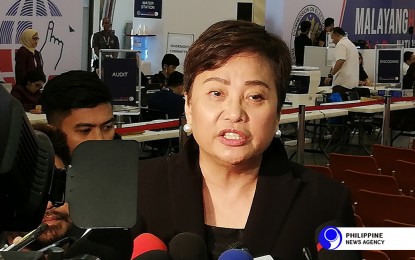 MANILA – The Commission on Elections (Comelec) on Wednesday said it would ask the national government to allow its personnel to be moved to a higher notch in the A4 priority listing of the coronavirus disease 2019 (Covid-19) vaccination program.
In a radio interview, Commissioner Rowena Guanzon said this is for them to be able to register more voters for next year's elections.
"During our last meeting, we've discussed that we will request for our classification to be reconsidered, we're currently at A-4.15, we're so far. Our target (registrants) is five million until September, how are we going to do that?" she said.
The A4 priority group is composed of front line personnel in essential sectors and uniformed personnel.
Guanzon said this will help protect poll personnel who would hold satellite registrations in villages.
She added that they are aiming to register again some seven million delisted voters who failed to participate in two consecutive elections.
Aside from this, the poll body also targets to register some four million new voters who have reached the voting age of 18 years old.
Guanzon added that it would be risky for their personnel to go to the barangays without first being vaccinated.
Meanwhile, Justice Secretary Menardo Guevarra said the Comelec is free to file a formal request on the matter to the Inter-Agency Task Force for the Management of Emerging Infectious Diseases (IATF-EID).
"I think it is a very reasonable request to the extent that some Comelec officials and employees fall under category A2 (senior citizens) and category A3 (persons with comorbidities), they are automatically included in the priority list. the rest, being government front-liners, will surely fall under the next category (A4)," Guevarra said.
He added that any request for the poll body for its workers who are not among A2 and A3 groups "will be considered very seriously".
The Comelec has so far received over 3.4 million voter applications since January last year.
The voter registration for next year's polls will run until September 30. (with report from Benjamin Pulta/PNA)
*****
Credit belongs to : www.pna.gov.ph