Confident Tabuena kicks off KFT Q-School drive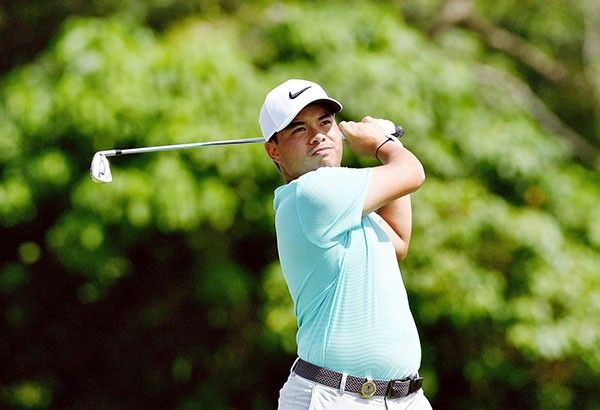 MANILA, Philippines – Miguel Tabuena finally gets to showcase his wares in a tournament he believes will underscore his readiness to go big time as he launches his drive in the Korn Ferry Tour Qualifying School unfolding Tuesday in Dayton, Nevada.
The 26-year-old two-time Philippine Open champion is blazing a trail for Philippine golf, along with the likes of Justin Quiban and Lloyd Go, as he seeks to hurdle the first of many blocks he has to face in pursuit of a coveted berth in the PGA Tour's farm league.
With the local pro play indefinitely suspended due to the spike of COVID-19 cases, Tabuena and the other Filipino players have opted to ply their trade somewhere not only to stay in competitive form but also enhance their respective careers.
Tabuena left for the US last June and went on a three-month buildup, resulting to a four-shot victory in the Idaho Open two weeks ago for his first victory on the US soil.
"This is the first one I played in the US since coming over a few months ago," said Tabuena. "I've been practicing and training (physically) leading up to this."
Up for the first Filipino to play in the weekend in a full-player PGA Tour event in the 2017 Sony Open in Hawaii is this week's Korn Ferry Q-School, the first of three elims leading to a spot for next year's circuit.
The Nevada tournament drew 75 players fighting for 21 slots and it is one of the six satellite qualifiers making up the first stage of the KFT Q-School.
Tabuena launches his drive on No. 10 of the Dayton Valley Golf Club with Texan Hakula and Aaron Purviance of North Carolina at 8:50 a.m., ready and eager to flaunt his form against the tournament's long hitters.
"I think my game is in a good place — and mentally and physically, I know I am also," said Tabuena.
But the ICTSI-backed shotmaker will be up against an equally determined set of rivals that includes fellow Filipino and former national champion Go and Korean Kim Joo Hyung, who honed his talent and skills in Manila, winning the Philippine Amateur Open in 2018 and nailing two pro victories in the Philippine Golf Tour and The Country Club Invitational.
Go drew an 8:40 a.m. start with Gunner Wiebe of California and David Bradshaw of Washington, also at the backside, while Kim will start at 10:10 a.m. on No. 1 with Chris Crawford of Pennsylvania and Texan Chris Malec.
Kim also racked up three wins on the Asian Development Tour, earning him an automatic promotion to the Asian Tour and he ruled the smog-shortened Panasonic Open India in Nov. 2019 to become the second youngest to win in the region's premier circuit at 17 years old.
But Tabuena is as much ready and hungry as the rest of the bidders, his sights trained solely on putting up low scores in all four days at a rather long 7,218-yard desert course where 10 holes are surrounded by the majestic mountains of the eastern Sierra Nevada.
"I guess my victory (in the Idaho Open) sort of showed that I'm doing something right and I'm praying I can get through the Q-School," said Tabuena.
Pitted against taller rivals from all over, the diminutive but talented Filipino said he's not a bit fazed by their length, maintaining he can hit it over 290 yards off the mound.
He's putting emphasis on the iron play and short game, which he said would be most crucial to his KFT Q-School bid.
"I think I could hold up against the longer hitters but I hope to stay accurate in the short game," he said.
Five other elims will be held simultaneously in Gunter, Texas; Kannapolis, North Carolina; Lincoln, Nebraska; West Pal Beach, Florida and Woodstock, Illinois with the qualifiers advancing to Stage 2 slated in five sites on Oct. 12.
The final stage will be held on November 4-7 in Savannah, Georgia.
"My immediate target is to gain status on the KFT. I want to be able to play week-in, week-out," said Tabuena.
If he gets the job done, getting a crack at the world's premier circuit would be the next mission for the first Filipino to play in the weekend in a full-player PGA Tour event in the Sony Open in Hawaii in 2017 where he wound up tied at 64th.
"Of course, the dream is to play on the PGA Tour," said Tabuena.
*****
Credit belongs to : www.philstar.com