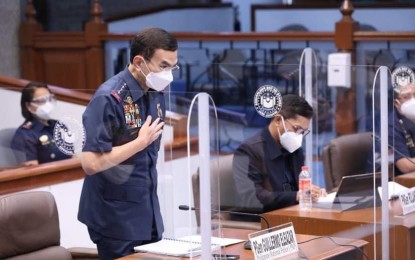 MANILA – The Philippine National Police (PNP) thanked Congress for assuring the passage of the PHP128-billion Revitalization and Capability Enhancement Program which will be implemented for 10 years starting 2022.
PNP chief Gen. Guillermo Eleazar, in a news release on Saturday, said he is lucky that the measure may be passed under his term.
"I attended committee hearings of the House of Representatives Committee on Public Order and Safety and I am so lucky that under my term, the program was approved," Eleazar said.
Eleazar paid a courtesy call on senators last week when the allocation of PHP20 billion each for 2022 and 2023 were tackled under Senate Bill 2004 filed by Senator Ronald Dela Rosa, a former PNP chief, in January.
For the next eight years, PHP11 billion would be allocated annually to modernize the PNP.
"These amounts will cover the basic equipage fillup of the police force in terms of its move, shoot, communicate, and investigate capabilities. We expect that at the end of this 10-year period, our basic equipage requirement will be complete," he said.
The Revitalization and Capability Enhancement Program, according to Eleazar, will fund the construction of 400 police stations that are currently erected on properties not owned by the PNP.
The fund will also be spent to improve crime laboratories in the provinces, custodial facilities, training institutions, barracks facilities, and hospitals.
He added that all the basic handguns and assault rifles requirement, which include those that would be distributed to additional policemen which would be hired in the 10-year period, would be covered in the budget.
"That also includes four helicopters and four fixed wings plus the mobility assets or re-fleeting because they are changed every five years. We thank President Rodrigo Roa Duterte and Congress for providing for the needs of the PNP," Eleazar said.
The Revitalization and Capability Enhancement Program was submitted by the PNP to Congress in 2019.
The proposed budget of the enhancement program, according to Eleazar, is on top of the regular fund under the annual General Appropriations Act. (PR)
*****
Credit belongs to : www.pna.gov.ph