In showbiz, it's not uncommon or unusual for a couple to work together in a project. Is everything hunky-dory? Let's ask Rita Avila, the villainess mom of Iza Calzado in the Kapamilya soap Ang Sa Iyo ay Akin, directed by her husband Frederick Medina (FM) Reyes.
"People always ask me, 'How is it working with your husband?' And I always admit, 'I get nervous. I know his standards.' Every actor has an insecurity. Imagine a wife performing in front of her husband! But what we do is cut our relationship on the set. I am only his actor and he is only my director. Plain and simple."
The relationship goes a long way, starting in 1999 when they first worked together in Marinella, FMR's first directorial job.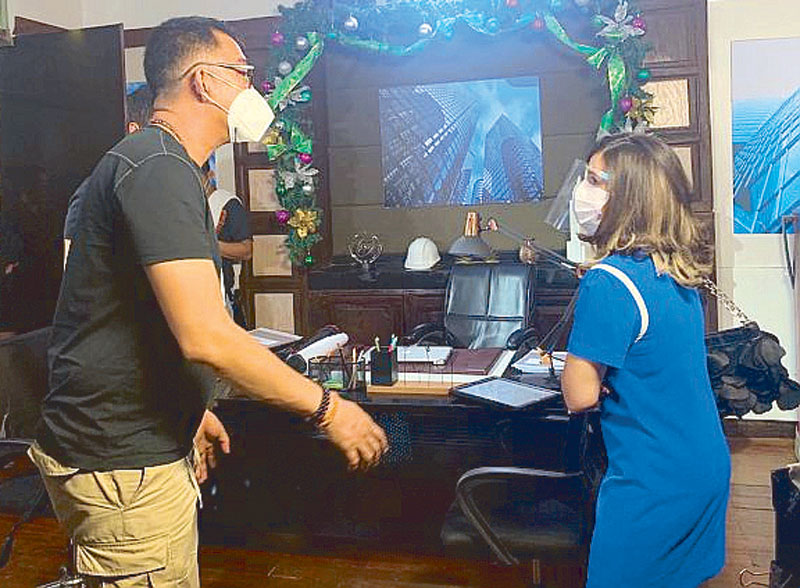 Observing protocols, Rita and FMR on the set of the Kapamilya soap Ang Sa'yo Ay Akin
"As new as he was," recalled Rita, "I saw the talent, intelligence and passion in him. He was kind of shy and soft-spoken. He easily cried when motivating us or when being affected by the noise or inattentiveness of the actors and staff."
Yes, added Rita, real boys do cry.
"I remember calling the attention of the group when I saw him being affected. I felt for him being young and new. He was so humble. Needless to say that artists have moods, but he was humble. We became friends and eventually, we became a couple. Him being eight years my junior was a big leap for me since I preferred older men."
Because of their relationship, there were rumors that Rita was acting like a queen on the set and that they were power tripping. When FMR commented after a take that Rita was "very good," a female co-star made a snide remark, "Siempre, asawa, eh!" They didn't let the negativity affect them.
"I decided to work for GMA 7 so that FMR and I would be on separate grounds. After 10 years, ABS-CBN offered me a soap. I prayed to God that, hopefully, I have made a full circle. No more sick rumors. I did Walang Hanggan and went to work with GMA 7 again and TV5 until…I worked again with FMR in Magpahanggang Wakas and now in Ang Sa Iyo ay Akin."
Some people thought that Rita should be in all FMR's soaps just because he is her husband.
"We didn't work that way," stressed Rita. "We have respect for each other, for our work and for the management. Our only power is our dignity. I am always awed by how he directs and mounts scenes. I admire him for making all actors important in a scene."
Doesn't she get jealous?
"Yes," said Rita, "I get jealous or envious when I get to watch his soaps (without me) and see how wonderful his actors work. I know how lucky his actors are. With FMR, there is always something new to learn."
She added, "On this note, I would like to thank RSB (director Ruel S. Bayani) and RSB Productions (Ms. Julie Ann Benitez) for these opportunities sans the mis-judgment and rumors but only trust in our capabilities and personalities."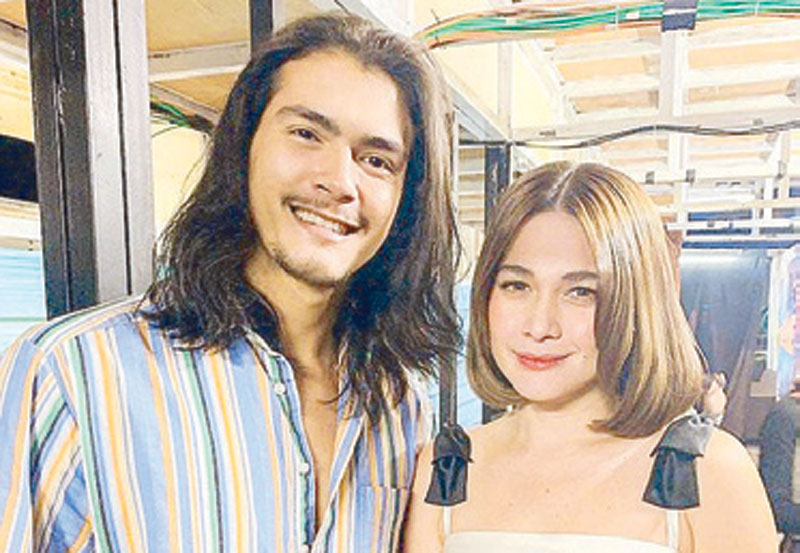 BidaMan finalist Johannes Rissler and his crush Bea Alonzo with whom he dreams of working someday
Dreaming of Bea Alonzo
Besides being good-looking, Johannes Rissler, 22, can dance, act and write songs. No wonder he got the lion's share of the attention and applause when he competed in It's Showtime'sBidaMan search.
Sadly, the pandemic nipped in the bud what could have been his big break.
Said Johannes, "The situation has affected me, especially knowing that people are getting infected. I pray for those who succumbed to the virus. But the pandemic gave me time to improve myself. It made me more passionate about writing songs."
He's grateful to producers who gave him projects and fans who supported his career. Johannes received good reviews as the character Leo in Jerome Ponce's BL series BenXJim. He is in Star Cinema's Soul Sisters starring Momshies Karla Estrada, Melai Cantiveros and Jolina Magdangal, and his goal is to work with his crush Bea Alonzo.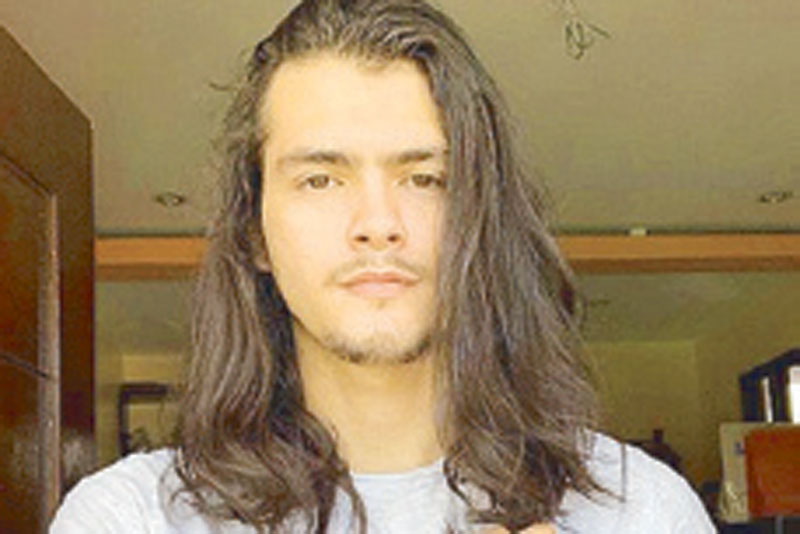 BidaMan finalist Johannes Rissler
He shared, "I've been doing live streams on Bigo Ph, writing songs, playing a few instruments and preparing for future projects."
Standing 6'2", the BidaMan finalist is a member of Professional Models Association of the Philippines (PMAP). At 17, he made his modeling debut at Bench Fashion Week 2017. Since then, he has appeared in Penshoppe Fancon 2018, Philippine Fashion Week 2018, Manila Fashion Festival, Randy Ortiz's 30th Anniversary, and more.
(E-mail reactions at rickylophilstar@gmail.com. For more updates, photos and videos, visit www.philstar.com/funfare or follow me on Instagram @therealrickylo.)
Credits belong to : www.philstar.com