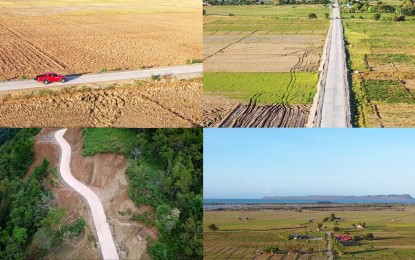 MANILA – To help leverage profits of rural areas, the Philippine Rural Development Program – Department of Agriculture (PRDP-DA) approved subprojects of local government units (LGUs) worth at least PHP40 billion
PRDP Director Shandy Hubilla said in a virtual briefer on Tuesday LGUs are lining up to avail of the projects and for bankrolling of more agriculture enterprise and rural infrastructure subprojects.
As of March, investments for the Intensified Building Up of Infrastructure and Logistics for Development (I-BUILD) or the infrastructure development component of PRDP totaled PHP37.48 billion for 510 subprojects for 795,000 beneficiaries.
The I-BUILD component covers strategic and climate-resilient rural infrastructures along the priority value chains.
Meanwhile, the Investments for Rural Enterprises and Agricultural and Fisheries Productivity (I-REAP) or enterprise development component has 644 approved subprojects worth PHP2.74 billion with 1,009 proponent groups and 146,473 beneficiaries.
The I-REAP Component aims to strengthen and develop viable agriculture- and fishery-based enterprises by providing technical, financial, and infrastructure support to eligible groups in targeted project areas within the priority value chains.
PRDP, a six-year project that started in 2014, is designed to establish the government platform for a modern, climate-smart, and market-oriented agri-fishery sector.
PRDP partners with LGUs and the private sector in providing key infrastructure, facilities, technology, and information that will raise income, productivity, and competitiveness in the countryside.
"Because of the clamor of the LGUs to become beneficiaries of PRDP projects, there was an intent to find additional funding," Hubilla said.
In May 2018, the USD170 million first additional financing for the PRDP was granted, followed by USD280 million and 18.3 million euros from the European Union co-financing grant in July 2021.
The second additional financing was the second tranche of the USD450 million from the World Bank approved by the Investment Coordination Committee in 2016. (PNA)
*****
Credit belongs to : www.pna.gov.ph