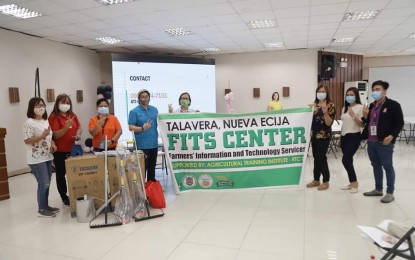 CITY OF SAN FERNANDO, Pampanga – Farmers in the municipality of Talavera, Nueva Ecija will now have an easy access to rice-related information and technology services that could help boost their productivity.
The Agricultural Training Institute in Central Luzon (ATI-CL) has put up five Farmers' Information and Technology Services (FITS) kiosks in Talavera to reach farmers in the barangays.
Jovita B. Agliam, Nueva Ecija FITS coordinator, said on Wednesday that the FITS kiosks were established in the villages of Mamandil, Cabubulaunan, Bacal II, Tabacao, and Minabuyoc.
Agliam said the FITS kiosk will serve as the barangay information center that aims to bring Rice Competitiveness Enhancement Fund (RCEF) and rice-related information and technology services to farmers in the barangay level.
She also said that FITS kiosk will likewise increase farmers' awareness and understanding towards Rice Tariffication Law (RTL), and rice-related programs and services of the Department of Agriculture.
"As pilot for the FITS kiosk in the region, we hope that this will help the farmers of the barangays and its neighboring community to improve their knowledge and skills in rice farming," Agliam said in a statement.
She said the establishment of FITS kiosk is alongside the enhancement of the municipal FITS of Talavera.
For the enhancement and establishment, she said the municipal government was granted a portable sound system, brochure holder, garden tools and various information, education and communication materials on rice.
"This is part of the extension component of the RCEF which aims to extend farmers' knowledge and enhance their capabilities to a more secure rice-farming," Agliam added. (PNA)
Credit belongs to : www.pna.gov.ph