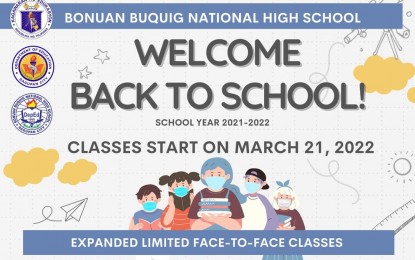 DAGUPAN CITY – Some 1,000 learners from the Bonuan Boquig National High School (BBNHS) here are set to return to their classrooms starting March 21 as the school begins with its limited face-to-face (F2F) classes.
In an interview Friday, school principal Dr. Renato Santillan said the regional director of the Department of Education (DepEd) has approved the conduct of the limited F2F classes.
BBNHS is one of the public and private schools which were included in the list of schools under the expanded limited F2F learning modality.
Santillan said they started working on the requirements as early as December last year, and they complied with all the requirements and standards set by DepEd Central Office.
Out of the 3,200 total learners enrolled in the school, over 1,000 from all levels (Grades 7 to 12) responded positively.
"Classes will start at 8 a.m. based on the DepEd order. Classes will run within three to four hours only based on the guidelines. The teachers will meet their students once a week for 45 minutes per meeting or subject," Santillan said.
Grades 7, 8, 11, and 12 will have classes on Monday and Tuesday, with four subjects on Mondays and the other four subjects on Tuesdays, he said.
Classes of Grades 9 and 10 are scheduled on Wednesdays and Thursdays, he added.
"We will have set A for the pilot testing in the first month. If the teachers would not encounter problems with the traffic management, we will proceed with set B next month, as long as the parents would consent," Santillan said.
He said the timeframe of the limited F2F classes will be conducted until the end of the school year unless the coronavirus disease 2019 alert level status in the city will be heightened.
He thanked the teachers, parents, the barangay officials, as well as the officers of the Parent-Teachers Association for their support. (PNA)
*****
Credit belongs to : www.pna.gov.ph