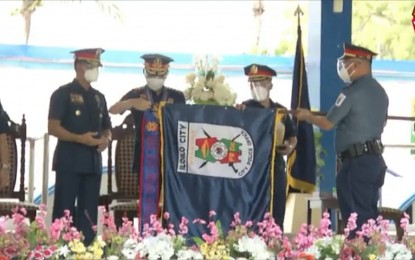 ILOILO CITY – Philippine National Police (PNP) Chief, General Guillermo Lorenzo Eleazar, on Thursday said the health crisis showed their service has evolved from just plainly enforcing the law to making their presence felt in almost all of the activities of local government units (LGUs).
This was his message during the conferment of awards to performing individuals and units of the Police Regional Office 6 (PRO6) during the 120th Police Service Anniversary (PSA) in Western Visayas at the Camp Martin Delgado here.
"Now more than ever during this pandemic we have seen the role the PNP plays in coordination with LGU ," he said.
Nonetheless, he said the true spirit of the police service is not only in its headquarters in Camp Crame, Quezon City, or in regional and provincial headquarters, but it is being celebrated every day in police stations helping people.
The contribution of awardees and even the everyday small deeds of their over 222,000 personnel, he said, is the true face of the PNP and not of those few scalawags who destroy the integrity of the organization.
He cited in particular women personnel, who breastfed children they do not even know, and those who assisted women to give birth in patrol cars, tricycles, private cars, in their homes, and even along the roads.
"Let the awardees today be your inspiration to think of the ways to improve your service to the people of Western Visayas and be your motivation to seize every opportunity that comes in your way to serve and protect," he said.
He added that the PNP has not failed in performing its obligations because, in the past five years, the crime prevention in the country has improved to 64 percent and the crime solution efficiency at 86 percent.
The PNP also made a strong accomplishment in its campaign against illegal drugs with the series of confiscations of over PHP6 billion worth of shabu and neutralization of several big-time drug traffickers, including their contact persons and operators of the international syndicate in the country.
"Let this celebration serves as an opportunity to honor those who made ultimate sacrifice in the line of duty," he said in honor of policemen who lost their lives while serving the public.
Awardees
For individual awardees, recognized during the ceremony were P/Col. Richard B. Baluis as Best Senior Police Commissioned Officer (PCO) for Administration; P/Col. Gilbert T. Gorero, Best Senior PCO for Operations; P/Major Lailyn I. Sencil, Best Junior PCO for Administration; PLt/Col. Mark Anthony D. Darroca, Best Junior PCO for Operations; P/SMSgt. Francisco B. Lindero Jr, Best Senior Police Non-Commissioned Officer (PNCO) for Administration; P/Corporal Hercharme D. Demigillo, Best Junior PNCO for Administration; P/SSgt. Andie Sitto D. Jastia, Best Junior PNCO for Operations; Alain Resano, Best Non-Uniformed Personnel (supervisory level); and Ma. Gindy C. Algarne, Best Non-Uniformed Personel (non-supervisory level).
For unit awardees, the Negros Occidental Police Provincial Police Office (NOPPO) was named Best PPO; Iloilo City Police Office (ICPO), Best CPO; Bacolod City Police Station 2 (BCPO), Best City Police Station; Roxas City Police Office (RCPO), Best Component CPO; Iloilo City Mobile Force Company, Best City Mobile Force Company; First Negros Occidental Provincial Mobile Force Company, Best Provincial Mobile Force Company; Regional Communications And Electronics Unit 6, Best Regional Administrative Support Unit; and Regional Highway Patrol Unit 6 as Best Regional Operational Support Unit.
The regional headquarters also awarded personnel and unit with a significant role at this time of the pandemic.
They included Iloilo Police Provincial Office (IPPO) director Col. Gorero as Outstanding Senior PCO, P/Lt Col. Renie T. Armiento as Outstanding Junior PCO from Aklan PPO, IPPO's Executive MSgt. Syvele P. Limjuco for Outstanding Senior PNCO, SSgt. Ma. Filomena R. Flores from San Carlos City Police Station as Outstanding Junior PCO, and Xander Don T. Dioso from IPPO as Outstanding non-uniformed personnel.
Also awarded were the Women and Children's Police Desk (WCPD) of the Oton Municipal Police Station as Best WCPD for Municipal Police Station, Bago City Police Station as Best WCPD for component city police station level, and Iloilo City Police Station 3 as Best WCPD for numbered City Police Station Level.
PNP chief in Antique
Eleazar also inspected the Iloilo City Police Station 5 and visited the ICPO to look into their compliance with the Intensified Cleanliness Policy (ICP) of the PNP.
In the afternoon, he proceeded to the Antique Police Provincial Office in San Jose de Buenavista for a command visit and celebration of the PSA in the province. (PNA)
*****
Credit belongs to : www.pna.gov.ph