This Christmas season, add Darren Espanto's new single Believe in Christmas to the list of holiday tunes you need to hear.
With the times we're in, we could all use that aural spark of joy.
"Why shouldn't you believe in Christmas even though there's a pandemic going on?" the 19-year-old singer told The STAR in a virtual one-on-one, sharing one of the core messages of the song released under MCA Music (Universal Music Philippines). Why shouldn't we, indeed?
According to MCA, the song isn't your standard Christmas anthem wrapped in "high spirits and effervescent glow." It's sensitive to the current situation yet unabashedly sincere with its intention — that it wants to be part of that playlist of hope.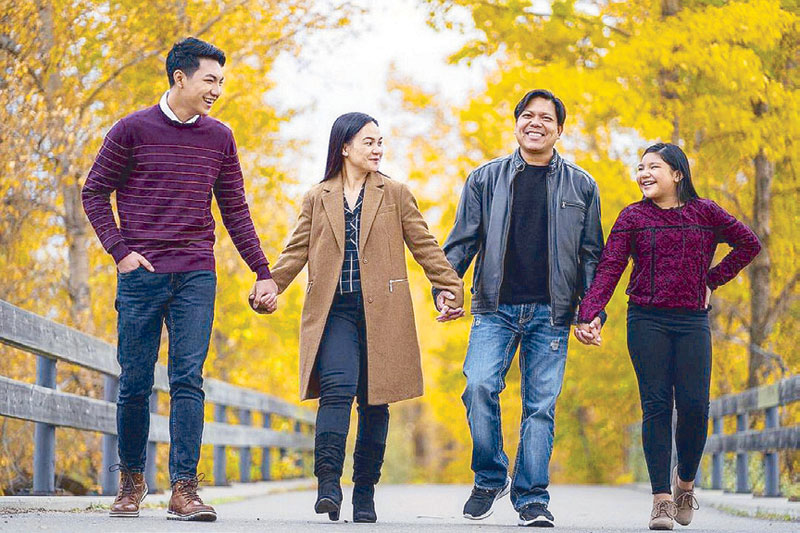 Darren is back home in Canada with his sister Lynelle and frontliner parents Lyndon and Marinel Espanto
Photo from the singer's Instagram account
Interestingly, Darren releases this song at a time when he's increasingly taking charge of the music he intends to put out.
The former The Voice Kids runner-up said, "We're gonna try a couple of new things like, with the direction of music I'm going to be taking. It's not the Darren of The Voice Kids anymore. There's still going to be songs that are like that in the music that I will be releasing in the future but you know, we're growing and we're also maturing as an artist and as a person. So, I feel that my new music should also do the same."
Here's the rest of The STAR's exclusive virtual interview with Darren who has been staying in his hometown in Calgary, Alberta in Canada since the lockdown.
How's life been for you during this time?
"Surprisingly po, I've been busy with virtual concerts and events and shows. I'd say blessed pa rin po ako, kasi kahit may pandemya na nangyayari, I guess you just have to see the silver lining in everything."
Good thing you were able to return to Canada and be with your family just before the lockdown?
"We were watching the news and when the President said that there was going to be a community quarantine for two weeks, my mom said, 'Feeling ko lang hindi yan magiging two weeks lang.' So she said, let's fly out to Canada and we were fortunate enough to get seats for March 15.
"I've been here for eight months and the life here, it's kind of back to normal but it's the new normal. In indoor public spaces, we have to wear face masks, practice social distancing and all that. We've been practicing sanitizing our groceries the moment we arrive at the door. And since my parents are frontliners (registered nurses), pagdating palang po sa garage, it's either me or my sister who'd get their towels ready. Diretso na sila sa shower and yung uniforms nila, iba yung laundry nila sa laundry namin, I'd say we've adjusted quite well to this pandemic."
Let's talk about your new Christmas single — what's the story behind it?
"This song was written by the new A&R of MCA, si Kuya Tiny Corpuz. We've already worked together in past Station IDs. The first time I heard the song, I just fell in love with it and the message of the song. I'd say, apart from it being timely, it has a beautiful message and a sincere intention to really uplift people apart from just celebrating the holidays.
"I only mentioned to him, kind of what I wanted the background of the song to be, and also the feel of the song, from the instruments to the type of song that it will be, genre-wise. We did a few tweaks along the way, but very minor.
"And the title itself, Believe in Christmas — why shouldn't you believe in Christmas even though there's a pandemic going on around the world? And the elements that Kuya Tiny placed in this song will give you the Christmas feels right away that's why I really chose this song to release this year."
Besides your single, what's your favorite Christmas song?
"I'd say, My Grown Up Christmas List and the Christmas Song. And also, All I Want for Christmas Is You. When people think of Christmas here in North America, yung All I Want for Christmas talaga yung nasa radio po agad and stuff like that. But in OPM, Sana Ngayong Pasko, you know, the classic Jose Mari Chan Christmas songs. Christmas songs just really hit you different. That's also a reason why it's one of my favourite holidays."
How about your favorite Christmas memory?
"There's so many but I'd say my first Christmas with my little sister like when she wasn't a year old yet. You know, having a new family member, a new addition to the family was just so special to me. And I wasn't an only child anymore. I was opening gifts with this small human. She was just ripping everything apart. I mean, there's joy in like opening gifts on Christmas day as well as just ripping it open. That's why my favorite Christmas memory will be the Christmas of 2010 when my sister was born."
Finally, any Christmas wishes?
"Sana mawala na po yung virus na 'to, for things to go back to normal and I know that will take a lot of time for that to happen, a lot of healing in different ways. But, you know, there may be a pandemic, and like in the Philippines, there may be typhoons, there may be flooding and all that, but if we still have our faith, if we still hold on to that, I believe that we can overcome all of these trials."
Believe in Christmas music video, which Darren directed himself, can already be viewed on his YouTube channel or listen to it via https://DarrenEspanto.lnk.to/BelieveinChristmas.
Credits belong to : www.philstar.com