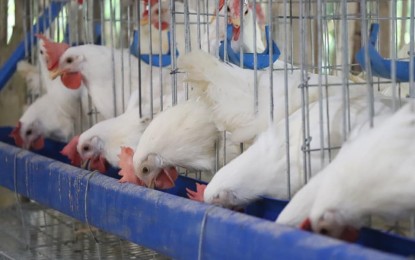 DAVAO CITY – The city government has issued a temporary ban on poultry and its by-products from Luzon and other areas with reported cases of the highly pathogenic avian influenza (AI) or bird flu.
A copy of Mayor Sara Z. Duterte's executive order on the ban dated May 13 was released to local media Thursday afternoon.
"The city government of Davao is hereby issuing a temporary ban on the entry of domestic and captured wild birds, their products and by-products, including day-old chicks, eggs, semen, manure, and feathers, from Luzon and other areas with reported cases of Avian Influenza effective immediately," a portion of the order reads.
Further, it said those who are transporting game fowls, ducks, pigeons, and captured wild birds must secure a veterinary health certificate indicating the birds were sourced from farms with no incidence of bird flu.
The EO allows the transport or movement of game fowls from Davao City to other provinces, although the movement of game fowls back to the city is prohibited unless negative AI test result is taken from the area of origin.
The city veterinarian's office (CVO), in its latest report, said Davao remains free from bird flu.
Dr. Cerelyn Pinili, the CVO chief, said her office has been focusing on monitoring the Talomo and Tugbok areas where the concentration of commercial poultry farms are located.
Strict measures are in place for the entry of poultry products from Tacurong, Sultan Kudarat – the nearest AI-hit area to the city, Pinili added.
Additional checkpoints have been placed at entry points from North Cotabato to Davao City, and the Buda and Marilog areas, including in Arakan–Dalaglumot, Marilog boundary, she said. (PNA)
*****
Credit belongs to : www.pna.gov.ph