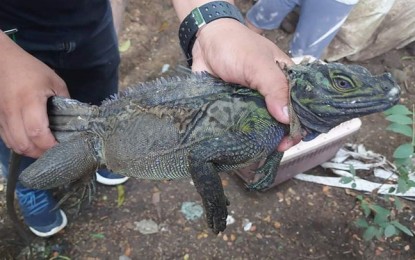 ZAMBOANGA CITY – The Department of Environment and Natural Resources (DENR) has issued a stern warning to the public that it is unlawful for anyone to collect, possess, or sell wildlife without the necessary permit from the department.
DENR 9 (Zamboanga Peninsula) Executive Director Crisanta Marlene Rodriguez issued the warning Friday after the agency's Environmental Law Enforcement Team and policemen seized two Philippine sailfin lizards, locally known as "Ibid", which were up for sale here.
The two Philippine sailfin lizards were confiscated Thursday from a couple, who are residents of Barangay Victoria, this city.
Rodriguez said she ordered to conduct an investigation after receiving an anonymous call from their hotline number on the presence of two Philippine sailfin lizards being sold for an exorbitant price.
"This is a clear violation of Section 27 of Republic Act 9147 or the Wildlife Resources Conservation and Protection Act wherein it states that it is unlawful for anyone to collect, possess, or sell wildlife without the necessary permit from the DENR," she said.
Cidur Julsadjiri, Environmental Law Enforcement Division chief, said Friday the investigation result showed that the wildlife was being kept in a pen and was just waiting for the buyer who was paying PHP50 million for the lizard that would be shipped to Malaysia.
Julsadjiri said the suspect's wife could not produce any permit or document allowing them to keep the wildlife. The couple's name was withheld.
The wife vehemently denied any involvement in the business of her husband as she informed the team that the wildlife was only entrusted to them by her husband's friend.
"A criminal complaint will be filed by our office against the suspect or suspects before the Office of the City Prosecutor of Zamboanga City upon termination of our investigation report," Julsadjiri said.
Rosevirico Tan, DENR-9 information officer, said the two Philippine sailfin lizards are now in the custody of the Community Environment and Natural Resources – Zamboanga City and will be released back to their habitat when deemed fit and healthy.
The Philippine sailfin lizards are endemic in the country and classified as vulnerable under the International Union for Conservation of Nature.
Their main threats are habitat loss, being hunted for food, and collection for the pet trade. (PNA)
*****
Credit belongs to : www.pna.gov.ph