Is it a case of too much too soon?
What got in the way of a romance predicted to be, ehem, forever?
Did the lockdown blues lead to the break-up?
Until Derek Ramsay and Andrea Torres decide to clear the air, we'll never know why, after only one year and two months, they split up (middle of last month), hinting at it by "unfollowing" each other on social media, leaving netizens clueless what went wrong.
Texted by Funfare, Derek's only reply was, "Andrea and I are no longer together."
In a reaction to a netizen's comment on his social media account, Derek said: "There is no third party!!!! The breakup has happened so fast. Maybe two people are just not meant to be."
In fairness to Andrea, she made it clear in a media statement that, in respect to Derek, she wasn't saying anything. Period.
Those who have been following the romance can only go tsk-tsking, saying, "Sayang naman!"
It was wonderful while it lasted. They became inseparable during the shoot of the steamy GMA series The Better Woman. In July last year, Derek asked Andrea to accompany him to Shanghai where Derek and his team competed in the Frisbee championships. They were mum on their status, only confirming that they were going steady in September also last year. A month before that, Derek dropped by The STAR office and Funfare "grilled" him in a no-holds-barred interview.
What Derek said then (August 2019):
• "I really like who she is, hmmm, very talented and very family-oriented. For Andrea, family always comes first which is the way I live my life. So we match in so many ways…"
• On his break-up with his girlfriend of six years (saying it wasn't due to the so-called seven-year-itch): "No, it wasn't something like that. I wanna make sure this time because the next one has to be my last. Ayoko na, nakakapagod mag-invest ng ganoon."
• He said he was close to Andrea's mom and vice-versa. "My mom's first impression about Andrea, her exact words, 'I like this girl. You can tell na may breeding and family is important to her.' Moms know best, di ba?"
• Asked if Andrea was Miss Right, he sounded confident, "I hope so. She has all the qualities that I want in a woman. Physically, she's my type…morena. She's maalaga (solicitous/caring). She babies me all the time, especially on the set. Mahina ako uminom ng tubig so she always brings me water and drinks, plus food. She always reminds me to eat because when I am busy, I forget to eat. She's like my mom…Very thoughtful. Even without any occasion, or for no reason at all, she sends my mom fruits and flowers, kaya tuwang-tuwa ang mom ko."
They were such a lovely couple. When his dream house was finished, Derek made sure that Andrea was the first to set foot in it, letting her throw herself into a huge bed. Well, as the song says, some good things never last, some relationships don't lead to the altar and end up happily ever after.
In the wake of the break-up, poor Pops Fernandez was tagged as "third party." Fake news!!!
Derek texted Funfare, "Pops is our family friend. She is very close to our family. There is no truth to the lies being spread!!!!! People can be so rude and judgmental."
In that "honest-to-goodness" August 2019 interview, Funfare asked Derek (referring to his exes, yes "plural"), no more second time around in your case?
"No. Kung pinaabot mo na sa hiwalayan, bitiwan mo na. Kung meant to be talaga kayo, hindi mo paaabutin sa hiwalayan."
Can't he and Andrea iron things out (whatever the kinks are) and, one more chance, get back together again?
Derek's reply, "We can be friends."
Sigh!!!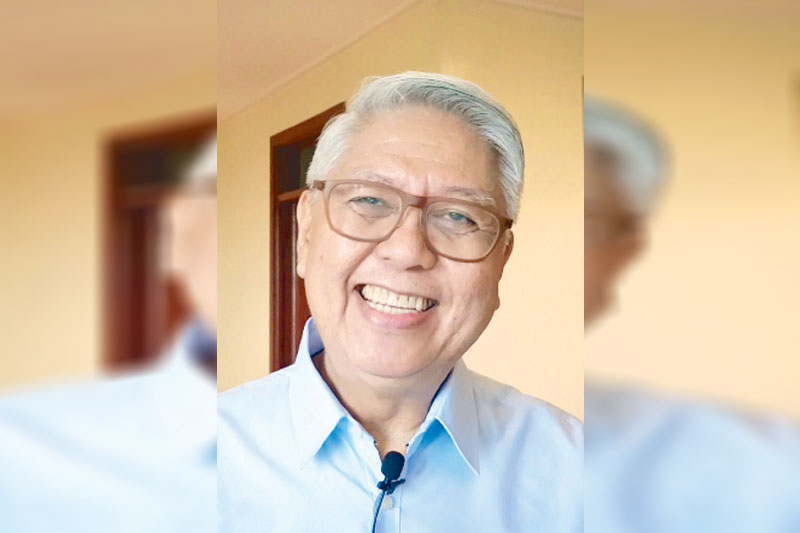 Ryan 'Mr. C' Cayabyab wrote It's Gonna Be a Happy Day for the Ayala Malls' Christmas celebration, sung by Reese Lansangan.
Two songs to make everybody happy
You can feel it in my eyes
Can you feel it when I smile?
It's gonna be a happy day.
And when I pass you by
With a kick ball change in my stride
It's gonna be a happy day
That's part of the song It's Gonna Be a Happy Day launched last month, sung by Reese Lansangan, that Ryan "Mr. C" Cayabyab wrote for Ayala Malls to set the mood of festive joy, celebrating the Malls' message of choosing happiness this season.
Did you know that it took Ryan only an hour to write and finalize that song?
"I knew exactly what I wanted to say," Ryan told Funfare. "And when I got down the first few lyrical lines (the words), I could hear the melody singing in my head already. Melody writing is easier than lyric writing for me, but since I had the concert in my head, all I did was write lines that contributed to the concept. The concept I had in mind when I started to write the song was…make every day a happy day…and it is up to the individual to choose to be happy."
It was never intended to be a Christmas song although we know that thinking of Christmas, despite what we are going through, makes us happy already.
"Again," repeated Ryan, "it is your choice to be happy. You may have sad experiences during Christmas pasts but it is still your choice to go beyond that feeling and make yourself and the people around you happy."
The first Christmas song that Ryan wrote was Kumukutikutitap, with lyrics by Joey Reyes. Then, he wrote other Christmas-themed songs.
Asked to define "happy day," Ryan said, "A happy day for me would be when I am with family, eating, traveling, playing, visiting relatives and making music. I am also most happy when I am performing music with friends, musicians and artists or when I am writing new songs, and when I find time to rest and not think about anything. Before I forget, being paid for my work also makes me happy and gives me an assurance that I have contributed to my community."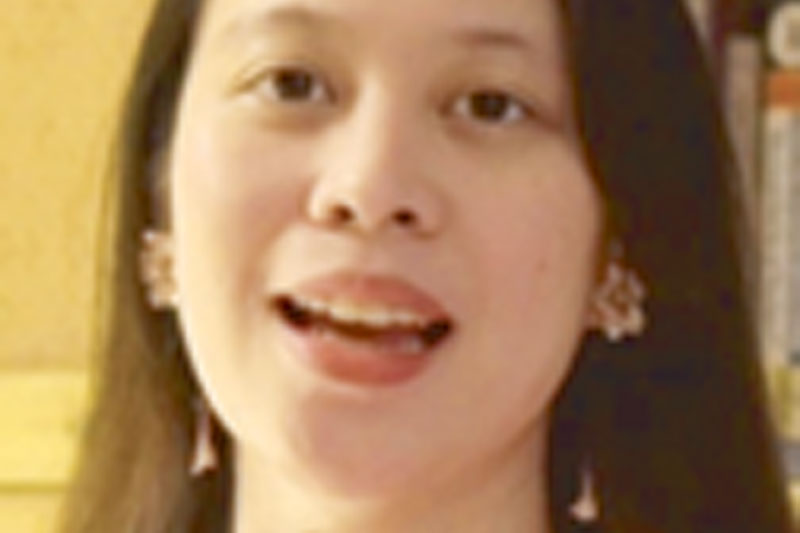 ***
Long live the Son of God
Long live the Child who'll be
The Lord of Lords! The King of Kings!
The angels sing
The stars will shine, the bells will ring
On this most glorious night of nights!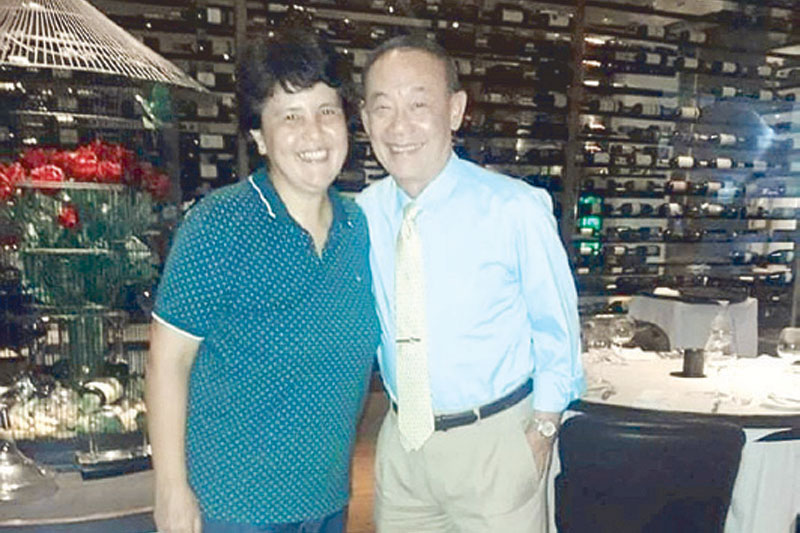 Rina Caniza wrote Happy Birthday, Jesus! which is touted to be the first Original Pilipino Music (OPM) Christmas song for children, sung by children. Rina was the co-lyricist of Christmas in Our Hearts, the all-time best-seller by Jose Mari Chan (in photo with Rina).
And that's part of a new song called Happy Birthday, Jesus! written by Rina Caniza who is the co-lyricist of Christmas in Our Hearts, the all-time best-seller by Jose Mari Chan who ushers in the Christmas season. It is said to be the first Original Pilipino Music (OPM) Christmas song for kids, performed by kids and co-written with a mother who passed away on Christmas Day in 2006.
Other songs by Rina have been recorded by Joey Albert, Martin Nievera, Verni Varga, Manilyn Reynes, Gino Padilla, Donna Cruz and Joanne Lorenzana. She also co-wrote Only a Memory, sung by Joey Albert, which became a Most Requested Song (MRS) on the radio.
Distributed by Star Music (digital distribution), the song is performed by The Playshop Kids (Cheska Rojas, Eli Luis, Twyla Alabastro and Basti Santos). According to Rina, it was Moy Ortiz who recommended that The Playshop Kids sing the song with Bree Bautista.
Said Rina, "My mom who wrote the music passed away on Dec. 25, 2006. She and I wrote this song in 2004 and 2012. My friend Jen Bautista added some music to the song. Last month, I wrote the lyrics of the song's second verse."
(E-mail reactions at rickylophilstar@gmail.com. For more updates, photos and videos, visit www.philstar.com/funfare or follow me on Instagram @therealrickylo.)
Credits belong to : www.philstar.com