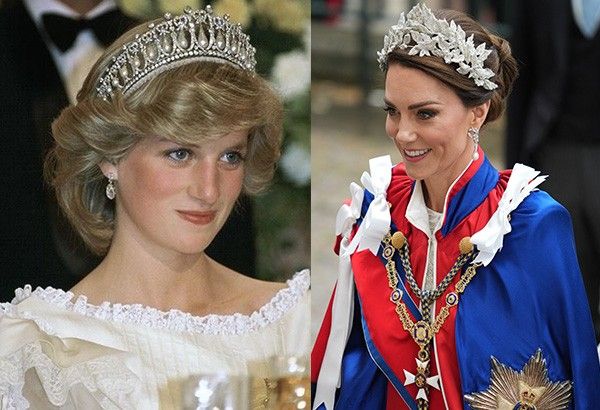 MANILA, Philippines — Diana, the former Princess of Wales, has been dead since 1997, yet she still continues to live to this day.
The beauteous ex-wife of King Charles III trended on Twitter on his coronation day, alongside her daughter-in-law, Catherine, Princess of Wales, and the current wife of her ex-husband, Queen Camilla, formerly known as Camilla Parker-Bowles.
Their entangled lives, which trace back to the early 1980s, peaking with the scandals in the 1990s and continuing even today, continue to spark conversation. It was more pronounced today, May 6, on the day that Charles finally succeeded his mother, the late Queen Elizabeth II's throne and made his great love, Camilla, his queen.
'People's Princess'
All through her life as a royal, even when she divorced Charles, until her tragic death due to a car crash on August 31, 1997, Diana's effervescent smile and numerous charitable works continue to be remembered. Even numerous popular media portrayals of her and the British royal family further stoke their popularity — or infamy — depending on which side of the lens one is inclined to see.
And so, her legacy is remembered — alongside her tragic death, love story and the complicated love triangle between her, Charles and Camilla.
Scathing remarks abound on social media, mostly from non-British subjects who remembered the headlines and stories three decades ago. Many posted their fondest wishes and what-ifs, had Diana still lived today. Some went as far as proclaiming her their queen.
"Queen Consort," meanwhile, is the title given to Camilla prior to her coronation as queen today. It trended with mixed reactions.
Kate has generally been liked. She inherited her beloved late mother-in-law's title, Princess of Wales, and many have pointed out her uncanny resemblance to Diana. Many noticed how she paid respect to Diana by wearing the latter's pearl earrings to the coronation today while dressed in Alexander McQueen.
Many are also looking forward to the day that she and William will lead the British royal family.
Absolute slayage from the Princess of Wales. Surprised to see she's wearing Diana's south sea pearl earrings and the floral headpiece exceeded all my expectations. pic.twitter.com/ze2hpQPMcb

— Queen Catherine????????? (@queen_____kate) May 6, 2023
The one and only Queen that Matters on this day: Princess Diana, Queen of Hearts #Coronationpic.twitter.com/ex7YMZraBP

— NoChillMood (@ritaag) May 6, 2023
Her way of smile reminded me her granny Princess Diana, she had the same shy smile.???? God bless our little princess and future Princess Royal.#PrincessCharlotte#Coronationpic.twitter.com/Temqwdqa6u

— RoyalWales (@cambridgepower) May 6, 2023
Princess Diana is all I could think about when Camilla was crowned Queen. #Coronationpic.twitter.com/HVyLXkUKEg

— ? (@outtaminds) May 6, 2023
Can't we go straight to the era of Kate and William? She is wonderful #Coronationpic.twitter.com/Su8MhC3ozM

— lollysweet (@Lolly_Delicios) May 6, 2023
RELATED: Charles III crowned king at first UK coronation in 70 years
*****
Credit belongs to : www.philstar.com