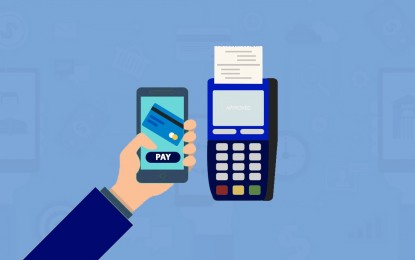 MANILA – Growth of digital payments post-pandemic is expected to remain strong as more people realize the convenience it brings as well as the introduction of more innovative services.
In a virtual briefing on Tuesday, Visa Country Manager for the Philippines and Guam Dan Wolbert said importance of cashless transactions and digital payments was appreciated during the pandemic, following the movement restrictions imposed to address the spread of coronavirus disease 2019 (Covid-19).
Initially, people used it to buy necessities following the lockdowns but later on utilized it for convenience, he said during the launch of the 2021 Visa Consumer Payments Attitudes Study.
"And so, we anticipate this trend to continue. And consumer behavior not only will continue but will accelerate as more and more services and capabilities will bring and will make this type of transactions simpler and easier and more functional," he said.
Results of Visa's annual online Consumer Payments Attitudes Study last year showed that 60 percent of the 1,000 respondents from Manila, Cebu, Cavite, Rizal, and Bulacan, carried less cash in their wallets and 84 percent tried going cashless.
Wolbert said respondents prefer using mobile wallets, 64 percent; card payment online, 52 percent; card payment at physical merchants, 44 percent; and quick response (QR) payments, 31 percent.
"While cash is still commonplace in the Philippines, the preference for cashless payments is clearly gaining momentum. Our study showed more Filipinos are confident to get by without cash and for longer periods of time — with more than half feeling confident to get by for a week or longer, as cashless payment options grow," he said.
Wolbert said the rise of cashless payments in Asia is at varying levels and what is important in the Philippines, among other countries, is that the Bangko Sentral ng Pilipinas (BSP) is pushing for further rise in digital payments transactions.
He dubbed the private sector's partnership with the central bank towards digital payments as "unifying and north star for the Philippines and stakeholders".
"So, we're really focused on growing and aiming to achieve and we're really focused on driving for more electronification of payments," he said.
Wolbert said financial literacy and consumer education are important factors that will enhance people's acceptance of this payment mode even after the pandemic.
"The trend in e-commerce (electronic commerce) will continue to be sustained and face-to-face (transactions) will complement (it). We see continued opportunity for digital payments and furthering acceleration of adoption of digital payments," he added. (PNA)
*****
Credit belongs to : www.pna.gov.ph