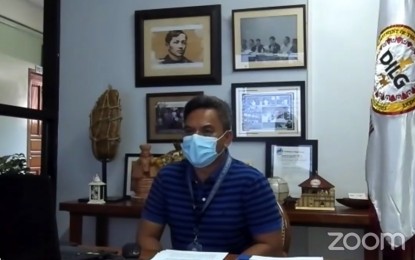 CEBU CITY – The Department of the Interior and Local Government (DILG) will issue a safety seal certificate to local government offices that are compliant with the minimum health standards.
Lawyer Leocadio Trovela, DILG-7 regional director, said Tuesday government offices include city and municipal hall buildings, provincial capitols, government facilities, barangay halls, fire stations, and police precincts.
"The safety seal is aimed to build the confidence of the clienteles of government offices. The objective is to ensure that these public offices are compliant with the minimum health protocols," he said in a press briefing.
Trovela said the role of the DILG is to organize an inspection team that will evaluate compliance of the building occupants with the health protocols and consequently issue the safety seal certificate.
Five agencies – the Department of Trade and Industry (DTI), Department of Health (DOH), Department of Labor and Employment (DOLE), Department of Tourism (DOT), and the DILG – issued Joint Memorandum Circular No. 21-01 formalizing the creation of the "Safety Seal Certification Program."
The establishments regulated by these agencies are covered by the joint memorandum circular. They can display the seal in a conspicuous place after being inspected by a joint team.
On Wednesday, the five agencies will start awarding seal certification to establishments that have passed the inspection.
Trovela said there are three ways for establishments to obtain the seal: regular visitation by the issuing agency, voluntary application, and acting upon a complaint by consumers or the transacting public.
Local government units, Trovela said, can also inspect and issue a seal to malls, wet markets, other retail stores, restaurants outside hotels and resorts, fast food, eateries, coffee shops, banks, money changers, pawnshops, remittance centers, car wash, laundry service centers, art galleries, libraries, museums, zoo, sports centers, tutorial, testing, review centers, gyms, spas, cinemas, arcades, and all other private establishments.
Ma. Elena Arbon, DTI-7 regional director, said the system aims to guarantee continuing compliance with health protocols and ensure that communities are safely reopening the economy.
Arbon said establishments that display the safety seal are exempt from inspection for a period of six months.
The establishments covered by DTI for the seal issuance are groceries, supermarkets, membership shopping clubs, convenience stores, construction supply, and hardware stores, outlets of logistics service providers, barbershops and salons, and service and repair shops.
The DOT can process safety seal certification for tourism-related establishments like hotels, resorts, apartment hotels, and other accredited accommodation establishments, travel and tours services, meetings, incentives, conferences, and events (MICE) venues and facilities, and restaurants inside hotels and resorts.
Those that are into manufacturing, construction sites, utilities, information and communication companies, and warehouses can get the safety seal from the DOLE. (PNA)
*****
Credit belongs to : www.pna.gov.ph