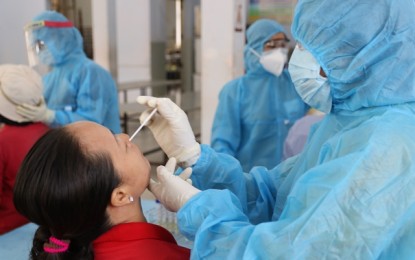 MANILA – The discounted reverse transcription-polymerase chain reaction (RT-PCR) test for qualified tourists at the Philippine Children's Medical Center (PCMC) has been extended until December, the Tourism Promotions Board (TPB) announced Wednesday.
This extension cuts into half the PHP1,500 regular cost of RT-PCR test at PCMC and is seen to benefit some 13,333 qualified domestic tourists whose destinations require a negative RT-PCR result.
The Department of Tourism and TPB first signed an agreement with PCMC in December 2020 to subsidize 50 percent of the hospital's RT-PCR testing cost wherein more than 15,000 domestic tourists were successfully swabbed from January to June this year.
Tourism Secretary Bernadette Romulo-Puyat said that the Department of Tourism and TPB will continue to extend efforts as part of its strategic plans to market and promote the country as a safe tourism destination.
"This program is just one of the strategic steps that DOT and TPB are working on as we gear towards recovery, and pave the way to the safe and gradual reopening of tourism destinations," she said.
"We are pushing for these initiatives to help our economy recover and we are optimistic that more industry stakeholders, local government units, and agencies will work hand-in-hand with us on this endeavor," she added.
The Memorandum of Agreement (MOA) was signed by TPB Chief Operating Officer Maria Anthonette Velasco-Allones and PCMC Executive Director Julius Lecciones in a virtual ceremony on Wednesday.
To avail of PCMC's PHP750 test, travelers must first register online for pre-schedule via http://www.tpb.gov.ph/rtpcrphtravel/ and submit a valid government-issued identification card, proof of hotel booking in a DOT-accredited accommodation establishment, and proof of mode of travel such as airline or bus ticket.
PCMC will accept RT-PCR test applications on a first-come, first-served basis, the TPB said. (PNA)
*****
Credit belongs to : www.pna.gov.ph