DOH, DBM execs skip Senate hearing after Duterte formally bars them from attending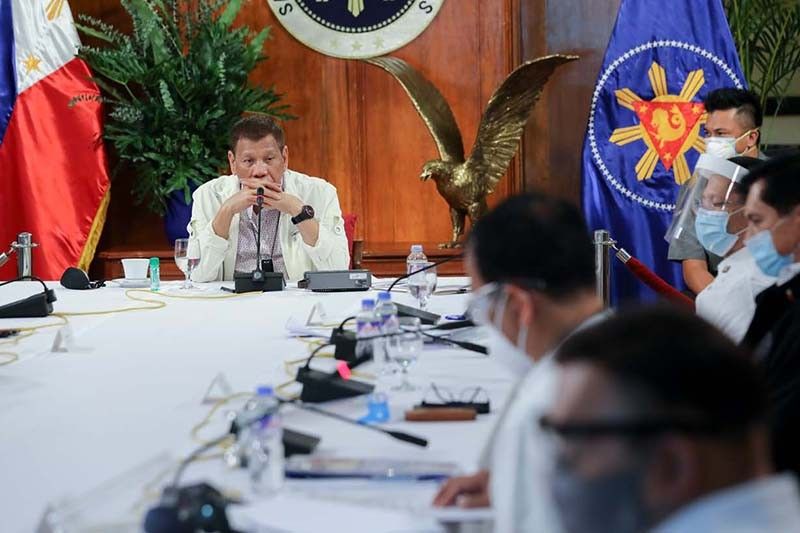 MANILA, Philippines — Senators scored as "unconstitutional" Tuesday an executive branch memo barring officials from attending Senate hearings on the government's anomalous contracts with Pharmally Pharmaceutical Corp. as key agencies behind the deals were left unrepresented when the probe resumed.
President Rodrigo Duterte formally banned officials from attending the blue ribbon committee's hearings through a memo issued by Executive Secretary Salvador Medialdea on Oct. 4, 2021.
Among those notably absent as the panel resumed its probe the following day, were Health Secretary Francisco Duque III and DBM officer-in-charge Jasonmer Uayan. The chief implementer of the country's pandemic response, Carlito Galvez Jr., also skipped the hearing.
Meanwhile, officials from the Commission on Audit, who flagged the deficiencies in pandemic spending that spurred the Senate's probe, the Civil Service, and the Bureau of Internal Revenue, still attended despite the memo.
Even administration ally, Sen. Francis Tolentino, seemed to be caught off guard by the lack of key officials present, directing questions to the DBM that went unanswered.
Senate Minority Leader Franklin Drilon then interjected to explain to Tolentino why all the resource persons he was seeking were absent. Tolentino replied that he was unaware of the memo, causing Sen. Panfilo Lacson to read a portion of it out to him.
"May I request Sen. Tolentino, since he is an ally of the president, [to ask] the president to revoke this circular, unconstitutional as it is, which barred all gov't officials from appearing in our committee," Drilon said.
"That is why Sen. Tolentino, all the gov't officials [you] are looking for are not here."
LOOK: Memo issued by Executive Secretary Salvador Medialdea on October 4, 2021, relaying that President Rodrigo Duterte has banned Executive Department officials from attending Blue Ribbon Committee hearings on anomalies in pandemic spending flagged by COA. @PhilstarNewspic.twitter.com/VyU3wOnzQA

— Bella Perez-Rubio (@BellaPerezRubio) October 5, 2021
"This has all the red flags of unconstitutionality, it only covers the Senate, it only covers the blue ribbon [and] this particular hearing," Drilon, a former justice secretary, said of the memo.
"I cannot see any memorandum as blatantly unconstitutional as the one before us."
Though the president has long threatened to bar his appointees from attending the hearings, his spokesman Harry Roque assured at his press briefing Monday that Cabinet members would still attend.
"While the Cabinet officials appreciate the concern of the president, for them, for purposes of transparency, they will still go to the Senate because they are not hiding anything," Roque said partially in Filipino.
Blue Ribbon tells absent officials: We'll see you at budget hearings
Sen. Francis Pangilinan, meanwhile, reminded officials that their budgets for 2022 are still pending in the Senate.
"To those [officials] not present in today's hearing, we will see you in the budget hearings," he said. "We may raise these questions in the budget hearings."
Duterte has repeatedly lambasted the blue ribbon probe as it closes in on his appointees and other individuals linked to him.
Among those embroiled in the controversy is Duterte's former election lawyer, Christopher Lloyd Lao who also skipped Tuesday's hearing even though he is no longer an official of the executive department.
His former boss, former Budget Secretary Wendel Avisado, and former PS-DBM director Warren Rex Liong, now overall deputy ombudsman, were both present at the hearing.
Lao was chief of the procurement service when a bulk of Pharmally's contracts were awarded.
On Monday, he attended a hearing at the House of Representatives where commiserated with administration-allied lawmakers about the supposed mistreatment he has received from senators.
*****
Credit belongs to : www.philstar.com