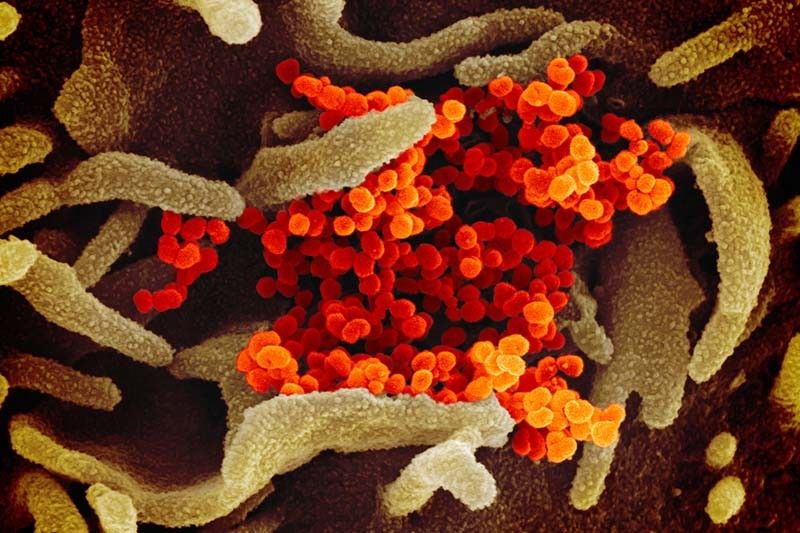 This scanning electron microscope image shows SARS-CoV-2 (orange)—also known as 2019-nCoV, the virus that causes COVID-19—isolated from a patient in the U.S., emerging from the surface of cells (green) cultured in the lab. Image captured and colorized at NIAID's Rocky Mountain Laboratories (RML) in Hamilton, Montana.
MANILA, Philippines — There is no new strain of coronavirus in the Philippines, the Department of Health said Monday.
This, after the United Kingdom confirmed that a new fast-spreading of coronavirus has appeared in Britain, prompting heightened restrictions and travel bans.
"According to the RITM, right now, they have not seen a new strain in the country based on their monitoring," Health Undersecretary Maria Rosario Vergeire said in a briefing.
"But of course, we will be furthering this monitoring. We might need to strengthen our measures in the event there is a new strain in the country. But right now, there is none," she added.
Initial data suggest the new coronavirus strain could be "up to 70% more transmissible," British Prime Minister Boris Johnson said as he ordered new restrictions for London and southeastern England until December 30.
The announcement prompted several nations to ban flights and trains arriving to and from UK.
Vergeire said there is no need to enforce stricter travel restrictions for now.
"Although of course, we're strengthening our measures to prevent the infection from reaching the country," she said, referring to testing at ports of entry and quarantine of travelers.
Filipinos have been advised to remain vigilant and continue observing health protocols as the country braces for a surge in COVID-19 cases during the holiday season.
Total COVID-19 infections in the Philippines reached 459,789 Sunday. Of the figure, 21,708 are active cases. — Gaea Katreena Cabico with report from Agence France-Presse
As It Happens
LATEST UPDATE: December 21, 2020 – 4:10pm
Other regions and provinces in the Philippines considered moderate and low-risk areas will be placed under general community quarantine starting May 1. Bookmark this page for updates. (Main image by The STAR/Edd Gumban)
December 21, 2020 – 4:10pm
The Department of Health records 1,721 new COVID-19 cases, pushing the national caseload to 461,505.
Of the total of COVID-19 cases in the Philippines, 5.1% or 23,341 of which are considered active cases.
The national death toll is now at 8,957 with 10 additional deaths, while total recoveries stand at 429,207 with 82 newly reported recovered patients.
December 20, 2020 – 4:14pm
The Department of Health reports 1,754 additional COVID-19 cases, bringing the total cases in the country to 459,789.
The DOH also logs 8,080 mass recoveries, pushing the total of recovered patients to 429,134. The country's death toll reaches 8,947 with 36 new reported deaths.
With the latest figures, the total of active cases in the Philippines is now 21,708.
December 15, 2020 – 12:19pm
The Inter-agency Task Force for the Management of Emerging Infectious Disease has approved putting Isabela province under General Community Quarantine, BusinessWorld's Gillian Cortez reports quoting the Palace.
Palace Spokesperson Harry Roque said the IATF-EID approved the imposition of a General Community Quarantine until Dec. 31 in Isabela. Isabela was formerly under an MGCQ. Santiago City in Isabela will be exempted from the GCQ. @bworldph

— Gillian Cortez (@gmcortez_) December 15, 2020
Isabela will be under GCQ from the less stringent Modified General Community Quarantine until December 31. Santiago City will remain under MGCQ.
December 13, 2020 – 4:03pm
Total coronavirus cases in the Philippines climb to 449,400 with the addition of 1,085 newly reported cases Sunday.
The total of recovered patients also jump to to 418,687 with 9,269 new mass recoveries. The country's death toll is at 8,733 with 3 new reported deaths.
Total active cases in the country stand at 21,980.
December 10, 2020 – 4:11pm
The Department of Health reports an additional 1,383 COVID-19 cases in the country, raising the national tally to 445,540.
The DOH also logs 133 new recoveries and 24 new deaths, bringing the total of recovered patients to 409,058 and the death toll to 8,701.
Total active cases in the Philippines now stand at 27,781.
Credit belongs to : www.philstar.com