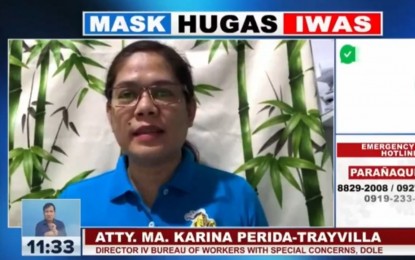 MANILA – An additional 2,000 informal sector workers and those who have been displaced by the coronavirus disease 2019 (Covid-19) pandemic will be hired through the government's emergency employment program, a labor official said on Friday.
Lawyer Ma. Karina Trayvilla, director of the Bureau of Workers with Special Concerns (BWSC) of the Department of Labor and Employment (DOLE), said the possible beneficiaries of the Tulong Panghanapbuhay sa Ating Disadvantaged/Displaced Workers (TUPAD) Program has been increased to 14,000.
"As to the numbers of beneficiaries, Secretary Silvestre Bello III initially said it is 12,000 for 30 days work. But it increased on Wednesday with an additional 2,000," she said in a Laging Handa briefing.
Trayvilla, meanwhile, said some of the workers might be employed for a longer period based on the request of some local government units.
"The requirement of LGUs is 90 days. With the budget for 14,000 workers, we will stretch it to 90 days, so we will be able to accommodate roughly 5,000 to have a longer duration of work," she said.
Trayvilla added that they are hoping to start the hiring next week.
"For our contact tracers, hopefully, we will start hiring next week after finalizing the details among the DILG (Department of Local and Interior and Local Government) and MMDA (Metro Manila Development Authority (MMDA)," she said.
As for the salary of contact tracers, she said it will be based on the minimum wage rate of the area where the workers will be employed.
"The salary that will be provided by the DOLE will be based on regional wage rate in NCR (National Capital Region) and also to the bubble area which is Region 4-A (Calabarzon). In NCR, the minimum wage is PHP537 per day at one month that's PHP16,110.00," she added.
Trayvilla said interested applicants can submit their applications to the Public Employment Service Office (PESO) of the LGUs where they reside. (PNA)
*****
Credit belongs to : www.pna.gov.ph