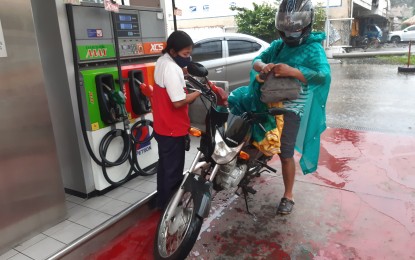 MANILA – Oil companies will implement up to double-digit price hikes starting Tuesday, marking the 11th straight week of increases with pump prices.
Caltex, Cleanfuel, Flying V, PTT Philippines, Petron, Seaoil, and Shell said they will raise gasoline prices by PHP7.10 per liter and PHP13.15 per liter for diesel
Caltex, Flying V, Petron, Seaoil, and Shell will also increase kerosene prices by PHP10.50 per liter.
For Seaoil, motorists and consumers do not need to rush to the gas station as they can lock the current prices and can be used when fuel prices will further go up.
"Seaoil customers will still enjoy current prices through the PriceLOCQ app until 6 a.m. of March 16, 2022, Wednesday. This will give motorists one extra day to download the app, lock current fuel prices, and protect themselves from the upcoming big-time price hikes," the oil firm said in a statement.
Department of Energy (DOE) Secretary Alfonso Cusi said Monday morning the price increase in diesel should be less than PHP12 per liter and below PHP7 per liter for gasoline.
"That is because of the correction in the world oil price market during the Thursday and Friday trading," Cusi said.
With the crisis on oil prices, the energy chief said his agency is reviewing the pricing policy and pricing formula that are being used, and will also evaluate the fuel value chain as part of its ways to ease oil price hikes.
"We requested for staggered increase. We even requested if they can lessen —the industry take(s) the sacrifice as we have asked our consumers to do conservation, we ask our industry players to sacrifice and take a cut on the industry," he added.
According to DOE's oil price bulletin, year-to-date net increase in gasoline prices stood at PHP13.25 per liter, PHP17.50 per liter for diesel, and PHP11.40 per liter for kerosene. (PNA)
*****
Credit belongs to : www.pna.gov.ph