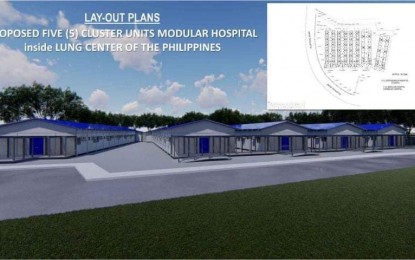 MANILA – Construction activities for additional modular hospital at the Lung Center of the Philippines (LCP) in Quezon City have started, aimed at serving moderate, severe, and critical Covid-19 patients.
The Department of Public Works and Highways (DPWH) will build five units of modular hospitals.
Three of five layouts were already established as of Saturday.
Undersecretary Emil K. Sadain, head of the DPWH Task Force to Facilitate Augmentation of Local and National Health Facilities, said in a news release that based on the design and build plan as agreed with LCP management, four typical designs with 88 beds and one intensive care unit (ICU)-type modular hospital with 22 beds, or a total of 110-bed capacity, will be constructed.
DPWH had earlier erected modular facilities at LCP composed of eight fully air-conditioned rooms with two beds per room to accommodate 16 moderate, severe and critical Covid-19 cases, and 16 rooms with double-decker beds as temporary shelter of health professionals.
Other DPWH-constructed modular facilities are one ICU type with 16 beds at LCP; four typically designed and one ICU type modular hospital at Quezon Institute-Philippine Tuberculosis Society Inc, Quezon City with 110 beds; one typically designed modular hospital with 22 beds at Dr. Jose N. Rodriguez Memorial Hospital and Sanitarium, Caloocan City; and another typical design with 21 beds and a 10-bed ICU type modular hospital at Batangas Medical Center in Batangas City. (PR)
*****
Credit belongs to : www.pna.gov.ph