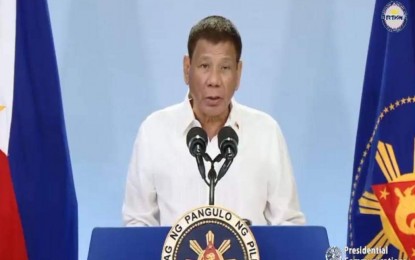 MANILA
– President Rodrigo Duterte on Friday emphasized the importance to have greater global solidarity in order to defeat the coronavirus disease 2019 (Covid-19).
Duterte made the call in his speech at the 26th Nikkei Conference on the Future of Asia, Malacañang said in a press statement.
"First, we are only as strong as our weakest link as a country and as a region, and as one global community. This is why we need greater solidarity for collective, coordinated, and comprehensive responses. Inward-looking policies will lead us nowhere," Duterte, as quoted by the Palace, said.
Duterte, Malacañang said, assured participants in the Nikkei forum that the Philippines supports all avenues for increased production of Covid-19 diagnostics, therapeutics, and vaccines.
He thanked Japan and other partners in the Vaccines Global Access (COVAX) facility, a global initiative that guarantees access to Covid-19 vaccines worldwide.
The COVAX facility, Duterte said, has benefitted many developing countries, including the Philippines.
The Philippines has so far secured 44 million Covid-19 vaccines through the COVAX facility.
Acknowledging de-globalization trends amid the pandemic, Duterte reaffirmed the Philippines' support for a "free and rules-based" multilateral trading system.
'Heightening' geopolitical competition
Duterte said collective international action can only complement national responses if it is "people-centered and holistic."
"If Asia is to serve as an engine of global recovery, we all have to act responsibly within a system of norms, commitments, and obligations. We have to resolve our disputes peacefully according to international law. We have to work together – not against each other – to achieve common ends," Duterte said.
He made the remarks, as he warned against the "heightening" geopolitical competition among big powers that "adds another layer of complexity to regional security issues," Malacañang said.
Duterte said powerful nations should "resist the temptation to pursue interests at the expense of smaller countries, in plain defiance of international law".
'Inclusive, sustainable' recovery
During the forum, Duterte also emphasized his administration's resolve to achieve "inclusive and sustainable" recovery amid the prevailing Covid-19 pandemic.
Duterte said his government is focused on ensuring universal health coverage, strengthening the public health system, enhancing food security, reinforcing the digital economy, and maximizing connectivity in the Philippines.
"The key to recovery and shared prosperity remains the free movement of goods, capital, and services, as well as the harnessing of valuable human resources. Despite the pandemic, opportunities for growth remain," he said.
He also took note of the Philippines' positive demographic profile and economic reform initiatives that make the country more competitive in an open and fair global economy.
This is the second time Duterte participated in the Nikkei conference. He joined the forum virtually.
Other leaders from Japan, Cambodia, Laos, Malaysia, Nepal, Pakistan, Sri Lanka, Thailand, and Vietnam, as well as heads of several international organizations also participated in this year's Nikkei forum.
The annual Nikkei Conference is organized by Nikkei Inc., the largest economic newspaper in Japan and the largest newsgroup in Asia.
It gathers together government leaders and business executives from all over the Asia Pacific to discuss current political and economic trends and issues. (PNA)
*****
Credit belongs to : www.pna.gov.ph