Duterte orders SolGen: Ask COA to collect P140 million from Gordon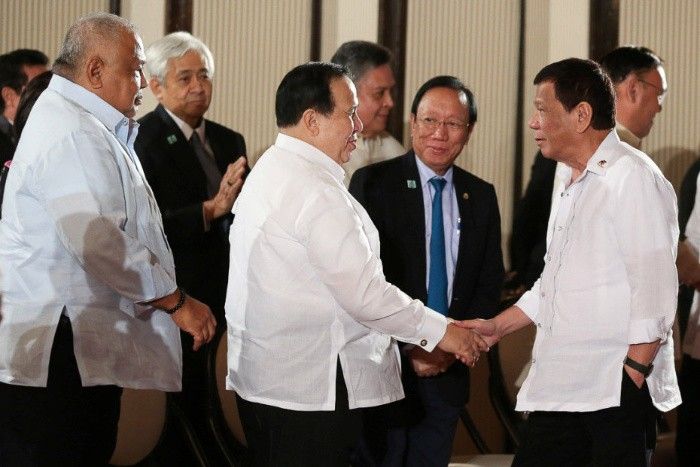 MANILA, Philippines — President Rodrigo Duterte has ordered the solicitor general to ask state auditors to collect P140 million in state funds that was supposedly misused when Sen. Richard Gordon was chairman of the Subic Bay Metropolitan Authority (SBMA).
Duterte said it has been years since the Commission on Audit (COA) issued a notice of disallowance over the funds but Gordon has not returned the money demanded from him. He added that P86 million of the funds used for the disallowed transactions was "attributable" to the senator.
"What happened to your case? You did not pay. It's a malversed money. It's the people's money that you have used. So where is the money or… what happened to the money? Did you give it to someone or you gave it as a present or you used it for your campaign?," the president said during a pre-recorded public address last Monday.
"I am now asking the Solicitor General to formally ask COA to act on the disallowance and remind them of their constitutional duty to collect the P140 million as stated in the demand letter of SBMA chairperson and administrator (Wilma) Eisma dated August of this year, which was sent via registered mail…This has been duly sustained by the Supreme Court as final and executory," he added.
Gordon became the subject of Duterte's successive tirades after the Senate had launched a probe into the allegedly overpriced pandemic supply deals of the government. Gordon is the chairman of the Senate blue ribbon committee, the panel conducting the investigation. The senator has vowed to continue conducting hearings on the supply deal and has accused Duterte of trying to divert attention away from the issue.
Earlier this month, Duterte directed Solicitor General Jose Calida to ask state auditors to audit the Philippine Red Cross (PRC), a humanitarian organization led by Gordon. COA chairman Michael Aguinaldo has said the state auditor has no jurisdiction over the PRC but Dutetre maintained that the group's finances may be audited because it receives government funds.
Duterte claimed that Gordon had appealed the case involving the disallowances before the Supreme Court but lost.
"The verdict is final and executory na. So no appeal, no nothing except for you to pay. That is the civil side of it. Iyong binayarin — isauli mo 'yung pera, that is your civil liability," Duterte said.
"But there is another component of that, the civil liability and your criminal liability. Your criminal liability is the malversation. And then you have the guts to tell the people that you want to run for a position?" he added.
While Gordon has not announced his political plans for 2022, Duterte said the senator would lose if proper cases are filed against him on time. He added that a person could land in prison if it is proven that he is guilty of fund malversation.
"Dikitan ninyo 'yan at hindi aabot ng election time 'yan si Gordon (Follow that case closely and Gordon can't make it to the elections)," Duterte said.
"I don't know if he has appeared in court… but he committed a lot of lapses there and it will in the end discredit him," he added.
Duterte also claimed that he is not bothered at all by Gordon's tirades.
"Gordon said I am shaken. Gordon, if you only knew my life. Yours must be a gilded life because you are the child of a wealthy person," Duterte said.
False positive cases
At the same public address, Duterte inquired about the false positive COVID-19 cases in the testing laboratories of PRC.
Duterte recently questioned the quality of PRC's testing capacities, saying he has received reports that 44 out of 49 hospital workers who had tested positive in PRC laboratories turned out negative in another facility. The President has also claimed that 187 out 213 personnel of the Presidential Security Group had tested positive in a PRC Manila laboratory but tested negative in their confirmatory tests. The finance department also had 13 cases of false positive PRC test results, Duterte added.
Health Secretary Francisco Duque III said the results of the investigation conducted by the Research Institute for Tropical Medicine (RITM) are expected to be released next month.
"Their (RITM) investigation will be completed, Mr. President, by Oct. 8. We will wait for it because the process of their investigation is a bit complicated and requires a highly technical process," Duque said.
*****
Credit belongs to : www.philstar.ca