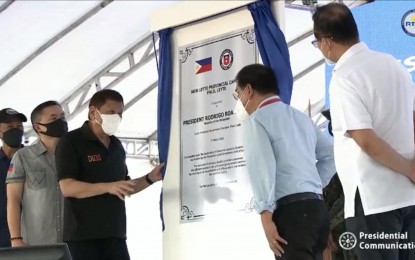 PALO, Leyte – President Rodrigo R. Duterte on Thursday renewed his call to the remaining members of the New People's Army (NPA) to surrender before his term ends.
Speaking before former rebels and local government officials here, Duterte said 53 years of armed struggle is too much and it should end.
"This problem has been going on since the time of my father who was a governor. You must surrender since we cannot kill you all," Duterte said in Bisaya.
"We have been wasting a lot of bullets to end this problem. Let us provide more assistance to the poor instead (of) spending money to buy bullets," he added.
The President reiterated his call in the presence of over 100 rebels from different parts of Leyte who received certificates of land ownership during his visit to the new Leyte provincial government complex here.
"I only have three months left in office. I told the military that if there is a mass surrender of NPA, I will fly to see them as I am the President," he said.
To address insurgency, Duterte said his administration has been distributing lands to former rebels and small farmers vulnerable to the influence of the communist terrorist group.
He also led the distribution of certificates of land ownership to 772 farmers with a total area of 576.74 hectares in different parts of Leyte province.
During the event, the President also turned over some partially completed houses to former rebels in San Isidro town.
The PHP20-million housing project was one of his promises during his visit to San Isidro town last Jan. 23, 2020, and part of the Enhanced Comprehensive Local Integration Program (E-CLIP) of the government.
Duterte was in Leyte to lead the unveiling of the marker of the new provincial government complex in this town with a five-story building housing all offices of the provincial government.
Leyte Governor Leopoldo Dominico Petilla said the 14-hectare complex symbolizes the resilience of their people.
"This is not just an office, but a monument of how we are as a people who showed resilience," Petilla added.
Located along the Palo West Bypass Road in Pawing village, the complex was developed through a PHP800 million budget of the provincial government.
The development of the complex started on Jan. 21, 2020, after the old capitol building in Tacloban City sustained cracks following the magnitude 6.5 earthquake that shook Leyte and Samar on April 27, 2019.
Storm surge also hit the building when Super Typhoon Yolanda struck the city on Nov. 8, 2013. (PNA)
*****
Credit belongs to : www.pna.gov.ph