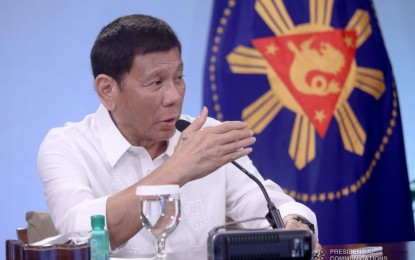 TOKYO – President Rodrigo Duterte on Friday said the Philippines will not take sides in the ongoing "big power competition" and urged large countries not to pursue dominance to the detriment of smaller ones.
Speaking on the second day of Nikkei's Future of Asia conference, held in Tokyo and online, Duterte also called for global cooperation in the fight against Covid-19, including equitable access to vaccines.
At the same time, Duterte said the pandemic "impelled, if not accelerated, the de-globalization process," resulting in lost trade opportunities for developing nations.
"We are not blind to the geopolitics of diversification and decoupling. However, the Philippines does not see the need to take sides in the ongoing geo-economic competition among big powers," Duterte said in a recorded speech, referring to the United States and China.
Duterte also said disputes must be resolved "peacefully according to international law."
"Great powers must resist the temptation to pursue interests at the expense of smaller countries, in plain defiance of international law," he said. "The pandemic has shown us that zero-sum approaches are self-defeating and ultimately futile. What hurts one ends up hurting everyone else."
Duterte also used the forum to seek investments in his country's agriculture and digital economy sectors, as his administration aims to reverse a record 9.6 percent economic contraction last year.
"We invite more investments to expand e-commerce and new modes of interaction and exchange in a safe and secure cyberspace," Duterte said.
The Philippine leader also trumpeted the newly signed Corporate Recovery and Tax Incentives for Enterprises (CREATE) law, which cuts corporate income taxes to 25 percent from 30 percent.
"The Philippines is ready to be a competitive actor in an open and fair global economy," Duterte said. "Despite the pandemic, opportunities for growth remain." (Nikkei Asia)
*****
Credit belongs to : www.pna.gov.ph