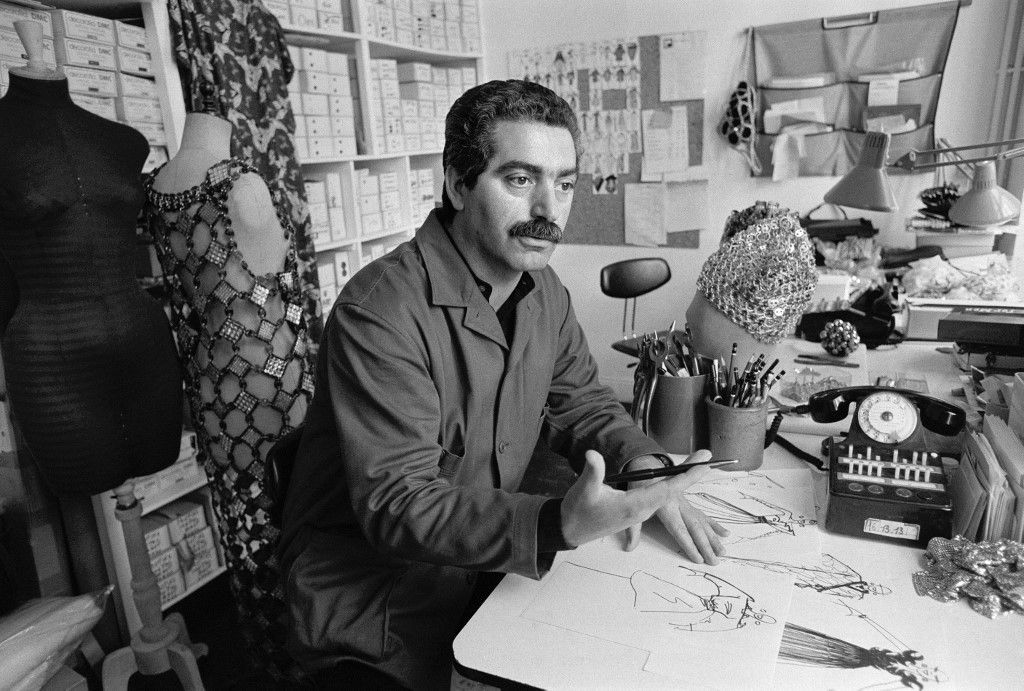 PARIS, France — Spanish fashion designer Paco Rabanne, known for his eccentric clothing designs and for founding one of the world's best-known fragrance brands, died on Friday at the age of 88.
Rabanne's death was confirmed by the parent company of his brand, who said he had "marked generations with his radical vision of fashion and his legacy will live on."
"Paco Rabanne made transgression magnetic. Who else could induce fashionable Parisian women to clamour for dresses made of plastic and metal?" said Jose Manuel Albesa, of Barcelona-based Puig, which owned Rabanne's label since the 1960s.
"Wacko Paco" was a key figure in the space-age fashion movement of the 1960s, known for using metal and other unlikely materials in his outfits, becoming best-known in later years for his globally popular line of fragrances as well as his eccentric beliefs.
He teamed up with Puig in 1968 and they released their first fragrance together a year later, leading to a perfume line that remains one of the most globally popular today.
"A major personality in fashion, his was a daring, revolutionary and provocative vision, conveyed through a unique aesthetic," said chairman Marc Puig in the statement.
Dismissed as "the metal worker" by Coco Chanel, his influence nonetheless carried through many generations and he famously dressed global superstar Lady Gaga in outfits made entirely of paper for her 2011 appearance at the MTV Europe Music Awards.
He also designed Jane Fonda's iconic costume for 1968 sci-fi film "Barbarella," and dresses for French icons Brigitte Bardot and Francoise Hardy.
Related: Paco Rabanne: Collection '83
Rabanne started out as a co-creator of the 1960s space-age movement in fashion alongside designers such as Pierre Cardin, who incorporated the era's giddy excitement around the future and technological advancements into their clothes.
His 1966 show brought immediate fame and notoriety when he stunned the audience with "12 Unwearable Dresses," his models dancing barefoot down the catwalk in outfits made of sharp metal and other unlikely materials.
"I have always had the impression of being a time accelerator," he wrote in typically enigmatic style for a retrospective at Antwerp's fashion museum MoMu in 2016. "Of going as far as is reasonable for one's time and not indulge in the morbid pleasure of the known things, which I view as decay."
Fleeing Franco
Francisco Rabaneda-Cuervo was born in 1934 in Spain's Basque region, near the city of San Sebastian, where his mother was a seamstress for the designer Cristobal Balenciaga and his father was an army general.
Rabanne's life was uprooted by the Spanish Civil War when the army of dictator Francisco Franco turned on his father, a commander of the Guernica garrison, and gunned him down in 1936.
In 1939 his family fled to France and Rabanne went on to study at the Beaux-Arts university in Paris, graduating with a diploma in architecture.
He began his fashion career creating accessories — jewellery, ties, buttons — that caught the attention of Christian Dior, Yves Saint-Laurent, and Pierre Cardin.
Related: Viva Magenta: How to wear 2023's color of the year
After the media furore around his own line, Rabanne signed a deal in 1968 that brought him under the ownership of the Barcelona-based Puig family, heavyweights in the fashion and fragrance industry.
It marked his entry into perfumes that would see his name become synonymous with cologne, ultimately even eclipsing his fame as a designer.
'Mystic, madman'
Ever the provocateur, Rabanne had a penchant for mysticism and esoterism.
He claimed to have had multiple lives, to have been some 78,000 years old, to have made love to the Earth, seen God, and been visited by aliens.
In 1999 he predicted in his book "Fire From Heaven" that Paris would be destroyed later that year when the Russian space station Mir crashed down to Earth — a claim derived from his reading of the 16th-century French seer Nostradamus.
"To say that Paco Rabanne marches to his own drummer is an understatement," the New York Times wrote in 2002. "He's been called a futurist, couturier, mystic, madman, Dadaist, sculptor, architect, astrologer, perfumer, artist and prophet." — with a report from Emilie Bickerton
RELATED: Dua Lipa, Federer to host Karl Lagerfeld-themed Met Gala
*****
Credit belongs to : www.philstar.com