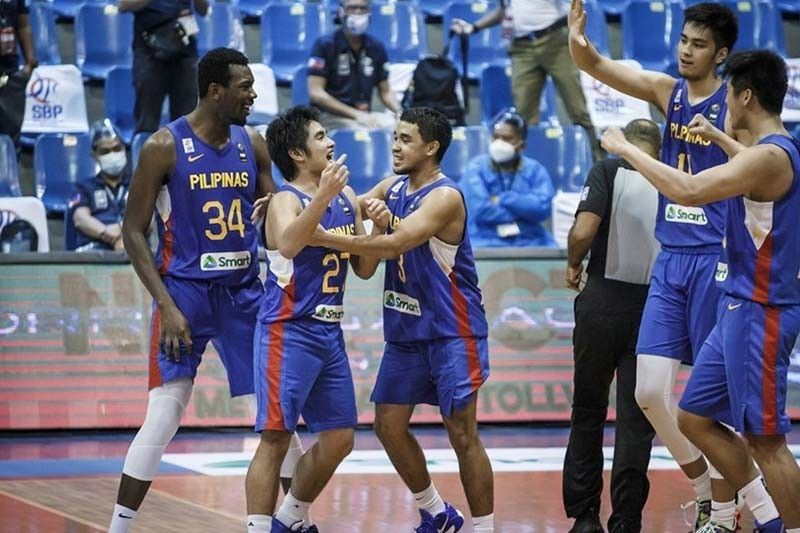 MANILA, Philippines – An international competition where a crucial win punches your ticket into the main tournament. The national anthem is playing and in spite of a very sparse crowd, one feels immense pride. And there's a game-winning shot for the ages — one that will be remembered for all time.
These are the moments that a basketball player dreams about and when it happens, they have to wonder if it is all a dream.
It is the fruition of a dream for SJ Belangel to don the senior kit of the Philippine men's basketball team in the FIBA Asia Qualifiers, where the squad won all three of its matches, including two against longtime tormentor Korea. And they drew with China in a tune-up match for the FIBA Asia Cup.
Belangel simply declares the entire experience as "an unbelievable series of memorable moments."
Why not?
He reunited with his Ateneo Blue Eaglets teammates Kai Sotto and Gio Chiu (who is still his teammate in the senior Blue Eagles where they have won another championship) and is now playing alongside old Far Eastern University foe, RJ Abarrientos.
He's also playing alongside Justine Baltazar, JD Tungcab, Javi Gomez de Liano and others. Not to mention his Blue Eagles teammates.
"We rekindled our chemistry with our on- and off-court familiarity and kulitan helping the process," Belangel said of his former and current Ateneo teammates.
With regards to his other national teammates, he said even if he went up against the others, it helps that he has seen them play, gone up against them, and studied their styles.
"I have been playing with and against my Gilas teammates so you have a feel for what they do. But with the system that Coach Tab Baldwin has in place, you have to find your role in the system and leave your ego at the door."
As for the other moments?
There are the wins. And that game-winner against Korea in particular.
Belangel has hit so many big shots for Ateneo, but never a game-winner. "Well, there was this one for a sports fest," he sheepishly suggested with a laugh.
And the last unbelievable and memorable moment is winning all three games for the Philippines.
"You hear everyone say that representing your country in a competition is an incredible thing. Totoo yan. For all of us, it is our first at this level," related Belangel. "And we earned the right to wear that Philippine jersey. Before all this started, I said to myself, 'Gusto ko sana makasama ako and napasali tayo. Memorable yan.' And it happened."
"I am so happy about our performance as a team. It goes to show the importance of Coach Tab's system in which we have total buy in and we let go of our egos. It is a step towards our future and the team. Happy kami sa results namin and we learned a lot. Stepladder pa lang to sa goal."
*****
Credit belongs to : www.philstar.com